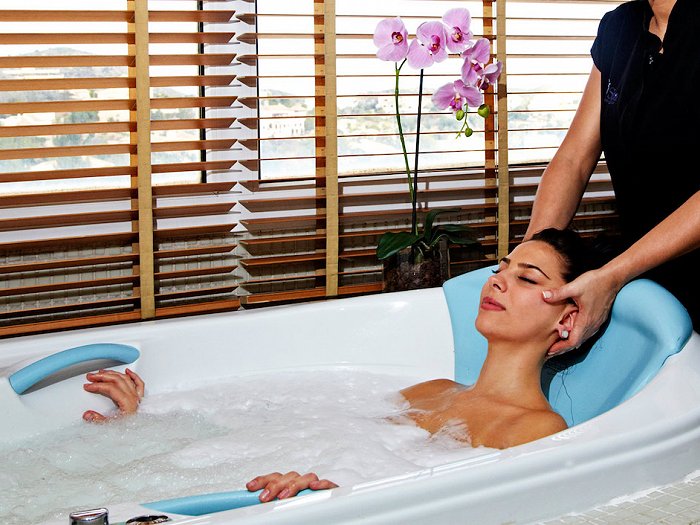 Looking to get out of the sun and for somewhere to go during the hottest hours of the day? Look no further, La Manga Club Wellness Centre offers all the services you would expect at the level of quality our La Manga Club residents are accustomed to receiving! An oasis of beauty, health and relaxation right at your doorstep, the Wellness Centre caters to your every need, from facials and manicures to personalised treatments and massages. Boasting 5-star facilities, the La Manga Club Wellness Centre staff look forward to pampering you in one of our luxurious massage rooms, where our team of highly qualified professionals will give you an unforgettable experience.
Should you feel the need to simply relax and unwind without any treatments, our centre is also home to exclusive spa amenities where you can sit back and leave the world behind you. Our La Manga Club residents have the following facilities just steps away from their luxury apartments:
A Jacuzzi/multifunctional pool with hydro-massage beds, swan-neck fountains and underwater jets
A steam room
A cold-water plunge pool and cold-water bucket shower
A relaxation room complete with music, chilled water, tea and fresh fruit.
In addition to the spa services provided and the first-class facilities available to our La Manga Club residents, only the best products are used to ensure a luxurious treatment with expert skincare ranges. One such product is the Spanish-born brand Natura Bissé. Its history goes back to 1979, when it was created in Barcelona at the behest of its owner, Ricardo Fisas. He had observed the soft hands of a former colleague who worked with the amino acids collagen, elastin and keratin. Investigating further, he came to discover that these natural amino acids in their free form had a powerful effect on the skin. Contributions to his research by experts in the field paved the way for company success. Owing to the exceptional results of its formulas, the company has grown exponentially and now, just some 40 years later, Natura Bissé is a well-known and respected skincare brand whose products can be found in exclusive stores, spas and luxury hotels in thirty-six countries around the world.
Joining other prestigious brands that have been selected to represent the best products and services in the luxury hospitality industry, Natura Bissé is endorsed by the Forbes Travel Guide. Its inclusion bears testimony to the fact that it meets the rigorous and high standards of a global authority on luxury travel.
Guaranteeing spectacular results, there are a number of Red-Carpet treatments available at the La Manga Club spa using the exceptional Natura Bissé brand. Our specialised aestheticians pay attention to individual skincare requirements and offer tailor-made treatments to our La Manga Club clients. Perfect for special occasions or just a bit of indulgence, after a treatment using Natura Bissé products, we are sure you'll become a convert to this amazing skincare line.
Fancy a day of pampering, then? Or wanting to re-establish your body-mind balance? Take a look at what our spa has to offer and schedule your visit today. Remember, health is a state of body, wellness is a state of being, and both can be addressed with a visit to the La Manga Club Wellness Centre.
Take note of the following opening hours or book in advance by email or phone:
Opening Hours
• Reception: 8 am to 10 pm
• Treatment Area: 10 am to 8.30 pm
• Water Area: 10 am to 9.30 pm
Wellness Centre indoor pool Opening Hours:
Monday to Friday:

10am to 3.30pm
5.30pm to 8.30pm


Saturday and Sunday:

10am to 2.30pm
5pm to 8.30pm



Email: spa@lamangaclub.com / wellness@lamangaclub.com

Telephone: +34 968 33 81 01 – Ext. 6100