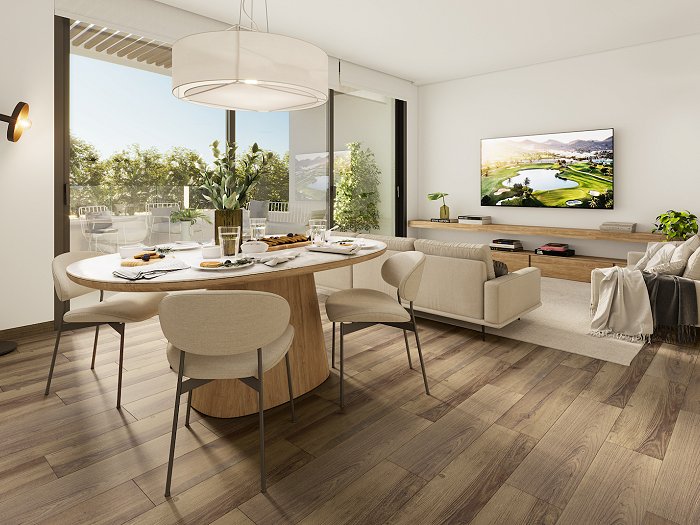 We are delighted to announce the opening of the new L*a Manga Club Properties showroom*, located in our offices on the roundabout at the entrance of the resort. This sleek modern space is a collaboration between La Manga Club Properties and one of our major suppliers, internationally renowned brand Porcelanosa.
Buying a home off-plan can be daunting for some. While the idea of a new-build property is tantalizing, and renders and architectural models can go a long way towards helping you envision your future residence, it can still feel like you are taking a leap into the unknown. And even when developers offer extensive and accurate lists of the materials, fixtures, and finishings chosen, few homebuyers know exactly what those products look and feel like, or have the time to research each item individually. How can they know what they're buying?
The La Manga Club Properties showroom is a place designed to alleviate concerns like the ones mentioned above. The showroom is similar to a model home in that you can physically walk into the spaces and have a tactile and visual experience. You can sit on the sofas and feel the upholstery, walk into the bathroom and see the furniture. You can touch tile samples and examine the colors in natural light, as well as get an impression of the overall aesthetic tone of the interior design.
The materials and finishes are the ones used in our premium Las Acacias villas, which come in 2-, 3-, and 4-bedroom configurations, and in our 2- and 3-bedroom luxury Las Orquídeas apartments. We are extremely proud of the high construction standards of these properties, so we are happy for our potential clients to see exactly what they will get, and know they have made an excellent long-term investment.
The showroom is also an opportunity for us to share more details about the Porcelanosa products themselves with our customers. We have chosen a new line of sustainable products for these projects that minimize the use of plastics and feel like natural stone to the touch, lending a calm ambience to the rooms in which they are used. These choices are but a few of many sustainable construction decisions made for these two projects. High energy efficiency standards have been met in the conservation of water and heat, while energy use is kept at a minimum.
With all our Las Acacias model homes already sold, the showroom is the only place you can get a real feel for your future at La Manga Club, and find out all the ways La Manga Club Properties has made these residences the best in the resort. Please ask our staff more about the innovative technologies employed when you come and visit, and we look forward to seeing you soon!