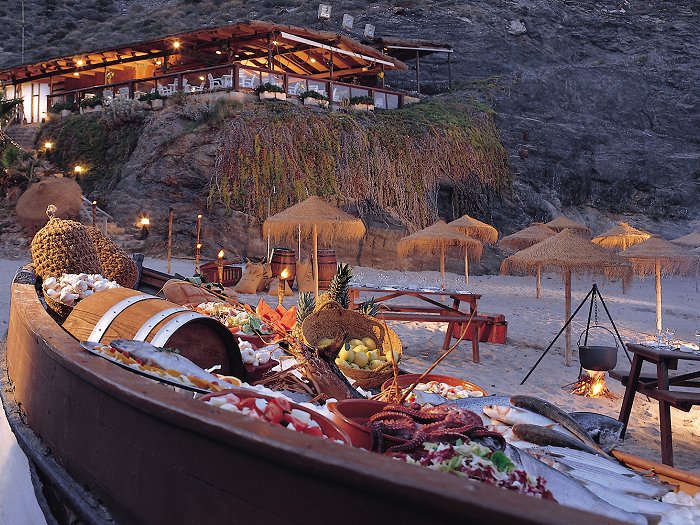 Cod prepared any way you could imagine, anchovies caught locally, pork raised in the region…it's not hard to eat well in Cartagena restaurants. And since they're just a few kilometers from La Manga Club, you can return again and again to your favorite dining haunts. And let's not forget that right here in the resort, there's a first-class restaurant with privileged views of the sea. Are you ready for a sensory journey through the region? Here are four establishments that stand out for their fresh ingredients and creative gourmet offers.
La Cala – Luxurious views
We'll start the tour at La Manga Club because we can't leave the grounds without mentioning La Cala. Poised atop a cliff with our lovely beach cove at its feet, this is an ideal spot for lunch or dinner. Its cozy atmosphere is accompanied by a great Mediterranean menu focused on fish and shellfish prepared with D.O. Calasparra rice. La Cala's spectacular views have long given it a reputation as one of the most romantic establishments in the area. Book directly on the La Manga Club webpage if you're ready to enjoy the sea breeze while watching the sun go down over the water.
Magoga – A Michelin star
From your property at La Manga Club, you only have to drive about 25 kilometers to Cartagena to enjoy Magoga, one of the most prestigious restaurants in the region. Headed by chef María Gómez and sommelier Adrián de Marco, the restaurant has earned one Michelin star and two Repsol suns. Its concept is bringing together the best of local history to reflect the "gastronomic soul of Cartagena." Among its many delicacies, we recommend the chato murciano, a pork dish prepared from a black pig native to Spain, which Magoga serves with a parsnip and wild fennel sauce.
Bodega La Fuente – Traditional flavor
Specialized in anchovies from Santoña prepared in-house, La Fuente is one of the most traditional places in Cartagena, and an obligatory stop for those who want to taste the real flavors of Murcian cuisine at a very affordable price. Tapas are their specialty, so get ready to have a proper Spanish vermouth accompanied by the "Matrimonio", a mix of salmorejo, anchovies and boquerones, or the "Primera Comunión", an exquisite anchovy montadito.
La Marquesita – Dining with the family
Included in the Michelin Guide as one of the best restaurants in the region, La Marquesita offers Mediterranean fare with an avant-garde touch. It has an extensive menu that includes dishes for children, though, and a full list of meat and fish options. Among its best are the tuna tartare, the warm octopus salad with mustard mousseline, and oxtail.
This is just a small sample of the many Cartagena restaurants worth visiting the next time you're at La Manga Club. We encourage you to start your own ranking of local menus and wines. You won't run out of new options!