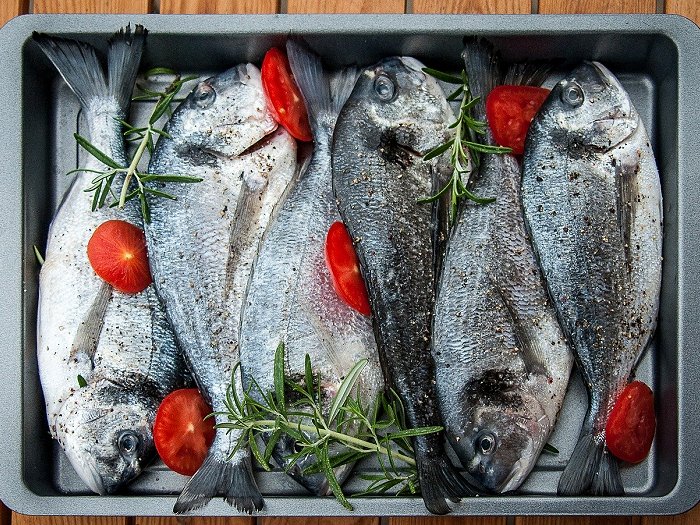 Whether you have been living at your house at La Manga Club for some time or have just begun to discover the magnificent facilities of our golf resort, no doubt you've already succumbed to the local charms of Murcia: climate, exceptional landscapes and culinary delights. One of the most authentic ways to discover the delicacies that Murcia's lands and waters have to offer is to stroll through its markets and take in the sensory delights of the inspiring aromas, bright colours and intense flavours of its products. But your local supermarket fish counter is just as likely to serve up some delights these days as well.
If there's one thing that stands out in Murcia's cuisine it is the great variety and quality of its fish and seafood, thanks to the two seas that touch the wide coastal area of the region. You can find native species like the sought-after gilt-head bream from the Mar Menor, the delicate langoustine and the prized mullet. All of them have a sublime flavour and texture which, together with their scarce availability, make them highly sought after. There's much to discover about the great seafaring tradition of these coasts, and you will be surprised to find that most fish are caught in the traditional way, encañizada, a method similar to using wire netting.
It is not surprising, then, that these fish make up some of the key traditional regional dishes and can be found on the menu in any of the restaurants that surround your property at La Manga Club. This month, venture to prepare these dishes at home. Awaken your palate, and fill your shopping basket with top quality products that will delight your senses.
Salted sea bream, the taste of the sea in every bite
We start with the salted gilt-head bream, one of the most characteristic dishes of the coast of the Region of Murcia. It stands out for being a recipe as easy as it is spectacular. With just two ingredients, you can enjoy all the flavour of the sea in every bite. This very traditional dish was made by fishermen who roasted fish in the boat in which they spent multiple days working without once setting foot on dry land. They would take the freshly caught gilt-head bream and cover them in salt on a smooth marble stone. Under this stone they would place a small fire of seaweed, reeds and charcoal. The simplicity of the procedure and the quality and freshness of the fish were the key to this exquisite dish and still are today. If you attempt to prepare it in your apartment at La Manga Club, done in the oven it will be just as tasty, if accompanied by some local vegetables or a delicious aioli sauce.
Mullet: baked and salted with a rich sauce
Though mullet is a fish not especially prized in other coastal areas of Spain, in the Mar Menor it stands out for its high quality, having been raised in clean waters and caught in the traditional system of encañizadas. So, if you want to delight your tastebuds with the authentic flavour of Los Alcázares, a coastal town in the Region of Murcia known for its beautiful promenade and its calm and clear waters, don't miss the chance to prepare Murcian mullet.
Whether grilled or baked with added sauces, it is delicious and, as a white fish, it stands out for its low fat and high protein content. Another way of eating it, more typical of the area of San Pedro del Pinatar, is salted, like the gilt-head bream, or in such characteristic dishes as the caldero.
And if you want to try a typical local appetizer, you can't pass up salted mullet roe, known as the "Mediterranean caviar". A very nutritious delicacy!
Langoustine, the jewel of the Mar Menor
Another of the most prized products of the Mar Menor is the langoustine or crayfish. They are caught just twice a year during the spring and autumn months, using trawling and trapping techniques. Thanks to the unique conditions of the waters of the Mar Menor, with their optimum salinity levels, the flavour of this crustacean is highly valued in fish markets and, indeed, markets and tables all over Spain.
There are numerous culinary preparations that feature the Mar Menor langoustine, owing to its tastiness alongside other typical fish and vegetables of the area. But its quality and exceptional taste make even the simplest recipes, using just the langoustines themselves, a favorite of Murcia.
Served steamed, boiled, grilled or in caldero, arroz or croquetas, langoustine is a jewel of the area well worth trying.
Murcia has a rich, varied and excellent gastronomic tradition, and if you are looking for the best raw materials, you have only to poke around and let yourself be seduced by a feast of local products. Explore further afield from your house at La Manga Club and try your hand at cooking the most traditional recipes right at home.