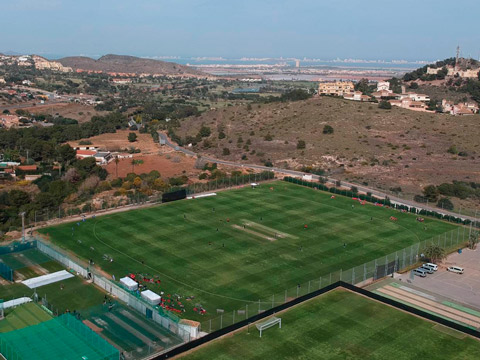 Our veteran residents know that buying a house at La Manga Club means more than joining a residential community. It means forming part of the future of a complex that has made history not only as a place to live and enjoy, but also as a sport destination that has hosted some of the most elite players in the world. Whether in golf, tennis, or football, La Manga Club has played an important role on the world stage of sport thanks to the personal and professional investment of people like football star Gordon Strachan and golfer Severiano Ballesteros. La Manga Club's latest efforts at making sport history have been centered on cricket, and we're delighted to announce that from Monday, the 29th of July, to Wednesday, the 31st of July, we'll be hosting The Champions League of European Cricket. This is the first time that the competition will be held in Europe and we're proud that La Manga Club has been chosen as the venue. We'll host athletes from 8 countries on the continent (Spain, Denmark, France, Germany, Italy, the Netherlands, Romania, and Russia), and it will be another link made between La Manga Club and the professional sport world.
With a total of 17 matches planned, the entire competition will span more than 36 hours of play that will be broadcast the world over through widespread media coverage. Among the countries and regions that will have a window onto the extraordinary climate and facilities of La Manga Club will be Australia, India, the Middle East, the UAE, the US, Canada, the UK, France, and Germany, which all have strong ties to this great sport.
Besides being able to enjoy the wonderful facilities of La Manga Club, its near-private beach, and of course its dynamic residential community, event attendees will be able to entertain themselves with a bit of shopping at the "Hormiga Hippy Market", an outdoor market that sells design objects, clothes, and handicrafts made by local craftsmen. Open to the residents of our houses at La Manga Club as well, these shops will be in business from 12 to 21h during the three days of competition.
On the entertainment front, meanwhile, a Red Bull DJ will accompany the event with music between the matches as the Food & Beverage Department of La Manga Club sells food and drink for perfect snacks. This pop-up offer, together with the great culinary range of our regular resort eating establishments, will let cricket aficionados fall in love with the fun social aspects of our resort as well. We already have football, tennis, and golf lovers who are equally passionate about La Manga Club, and we're sure we'll find the same among our cricket fans!