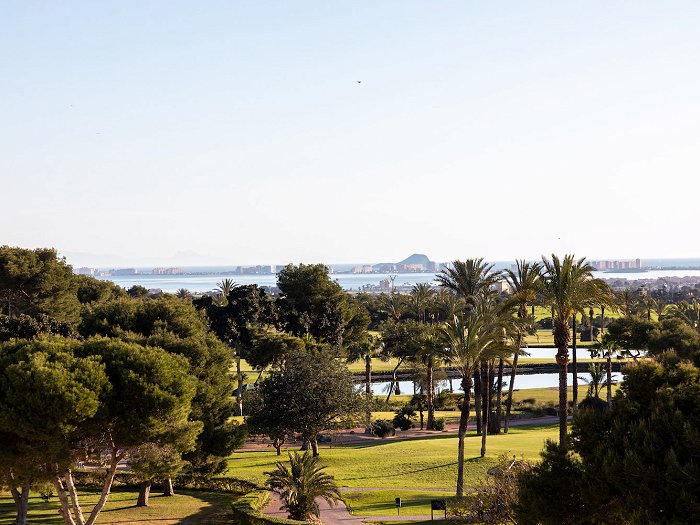 For those who want to invest in a property for sale in Murcia, look no further than the best golf resort in Spain: La Manga Club. Customer satisfaction has been our driving force and motivation for the more than 50 years of our operation. The ideal home is located in a place where pleasure and fun abound, and there's nowhere that fits that definition better than our resort, which contains some of the top golf courses in Spain. If you're ready to get a taste of La Manga Club life, today we offer four plans that will have you convinced of where you should live.
The perfect day of golf
There's little that's not advantageous when it comes to golf. It reduces stress, is suitable for all ages (even children!), it benefits body and mind, there's little risk of injury, and it encourages socialization. At La Manga Club there are three different 18-hole courses distributed throughout the almost six square kilometres of the resort. And if you feel you haven't yet reached your peak performance, there's a large practice area and an academy with teachers for all levels, along with the most modern equipment, to help you along.
Play tennis and relax in the pool
If you like tennis, The Racquets Club is a must. Not only are there 28 tennis courts and seven paddle tennis courts available to serve all the residents and guests of the facilities, but thanks to the recent renovations, there's a state-of-the-art exercise and leisure space at your disposal as well. The two air-conditioned floors of the centre include functional training areas, cardio machines, fitness classes, and the latest Life Fitness technology. Complete your day of sport with a relaxing dip in the pool, and you're guaranteed a well-deserved and rejuvenating night's rest.
Stroll through Cartagena's hidden treasures
After your day at Real Golf La Manga Club, take a trip to Cartagena. Just over fifteen minutes by car from La Manga Club, this historic enclave was founded in 277 BC. Whether you own a home at La Manga Club or have come on holiday to the best golf resort in Spain, the city will always offer something cultural to do and unique tours to enjoy on your own. Our recommendation is that you walk around on foot to admire the sights and take in the beauty of its streets and hidden corners. The Municipal Archaeological Museum, the Roman Theatre, the Castillo de la Concepción, the Batel, Casa Aguirre, Casa Cervantes, the Gran Hotel and the Palacio Consistorial are all precious historical sites that you should get to know.
The natural beauty of the sea
Still not sure what to do in Murcia during your getaway? Dive into the Regional Park of Calblanque and the beaches of Cabo de Palos. With a multitude of plant and animal species forming part of the native habitat and making for great entertainment for nature lovers, Calbanque also has a wide range of different beaches for everyone: families, athletes, naturists…you're sure to find your favorite one on this coastline.
The variety of leisure and relaxation options in the Region of Murcia make it a prime destination for anyone looking to enjoy a weekend getaway. Whether you're drawn by the best golf resort in Spain or by the many other activities, you may soon find yourself wanting to purchase one of our homes on a golf course. What are you waiting for? Time to explore.