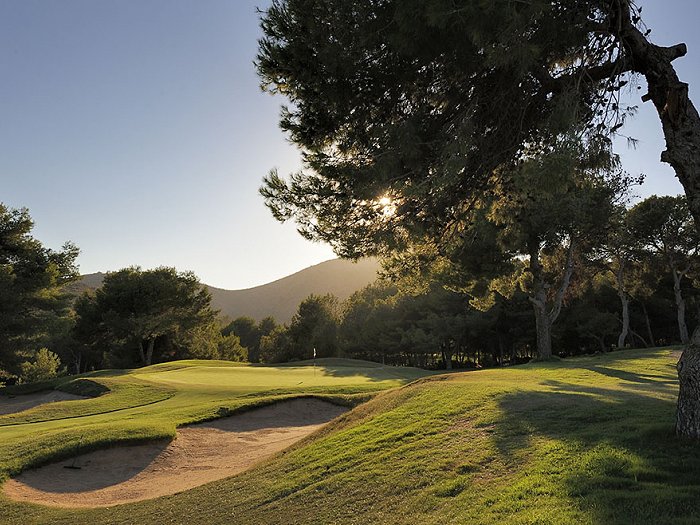 If there's one thing that makes our resort exceptional, it's the different golf courses of La Manga Club, three exceptional runs surrounded by the best facilities and an incredible menu of services to help you enjoy them without leaving your property. It's a privilege that aficionados of the sport appreciate more and more with every passing day.
The three courses at La Manga Club, each having 18 holes and listed among the top 40 courses in Spain, have different characteristics and personalities by design, so that every player can find what he or she is looking for, no matter her level or style of play.
The North Course, for example, designed by Robert Dean Putman, is a course for all types of play. It's somewhat hilly and slightly shorter than the others. Filled with palm trees and many lakes and bunkers, it has all the charms of a smaller course, with shortened greens and somewhat narrower lanes so that beginners aren't overwhelmed by the width that characterizes other courses. On the other hand, it still lets more experienced players exercise their precision and the technique required for strokes that are less powerful but more precise.
The South Course, which was also originally designed by Putman, was subsequently redesigned by Arnold Palmer. It's an exceptional course ready for the most demanding aficionados. It's not for nothing that it has played host to numerous professional tournaments. More than the North Course, it has attractive, very wide lanes and 15 water obstacles throughout the length of its 6,500 metres and 18 holes, combining them strategically to alternate the shorter holes with the longer. The front 9 are more complicated, with two par 3s and other par 4s that will demand the best from every player, and somewhat shorter holes on the back 9 that require a level of technical skill that will keep expert players focused.
The West Course, designed by Dave Thomas, will be a challenge for any player. Featuring frequent changes in slope and elevation, it requires precision, domination of the game, and knowledge of the terrain. On the front 9, the presence of bunkers requires players to make extremely precise strokes, while on the back 9, located in a more mountainous area, golfers need to use their more refined techniques. Thanks to this spectacular design, the West Course has recently made it to the list of the Top 100 in Europe.
As you know, just steps from our wonderful courses, you'll find the Golf Training Centre, directed by Thomas Johansson. Employing a new and unique teaching methodology, the academy will put the experience and professionalism of the best in the sport at your disposal.
Don't forget, either, about the Pitch & Putt designed by Severiano Ballesteros, as well as our large Practice Area. Altogether, it's a golf playground that is complete and spectacular, and which has helped La Manga Club be named Best Hotel & Golf Resort in Spain by Today's Golfer five times.
These wonderful facilities and services will meet all of your needs, we're certain. Whether you're a consummate golfer, a professional, or just taking your first swings, La Manga Club is your ideal destination. First-class facilities, unbeatable services, and a complete culinary and leisure offer work together to make sure you're not the only one enjoying himself. Our football and rugby fields, a privileged environment for running or cycling, the Wellness Centre, and heavenly terraces and swimming pools are designed for the enjoyment of the whole family. If you still have doubts, let us dispel them: La Manga Club is the right choice. Enjoy it!