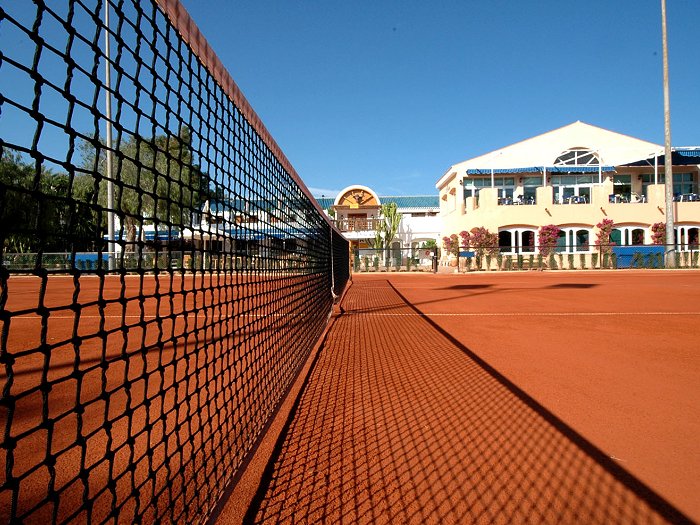 No matter your level or age, if you're passionate about the sport of tennis, it's time to book the best tennis courts in Murcia at The Racquets Club. Why? Because, as with almost everything in life, context matters. And in this case, "context" refers to facilities that are unparalleled for practicing your game, learning from others, and enjoying an après-tennis to die for. Located at the epicenter of one of the best golf resorts in Europe, The Racquets Club offers everything a tennis fan could want in exclusivity and professionalism.
First-class facilities
The great facilities are the cornerstone of the La Manga Club tennis experience. The Racquets Club's 28 indoor and outdoor tennis courts in Murcia ensure that you will never have a problem finding a place to train or play a match with friends. And thanks to their recent remodeling, all the courts have lighting that will allow you to play at any time of day or night, electronic scoreboards, and seating for spectators.
Learn to fall in love with tennis
You well know the benefits of golf at La Manga Club, so why not expand those benefits by trying tennis? The Racquets Club doesn't just offer the best tennis courts in Murcia; it'll teach you how to be the best player on them as well. Improve your technique overall, or hone your top tactics by getting private lessons for you and your family with our club professionals.
We offer a number of programs for all ages and levels: Adult, The Junior Academy (for children over seven years old) and The Red Ball Academy (for six years and under). Highly qualified instructors with extensive experience will make you love this sport and perfect your skills.
The Racquets Club also offers numerous competitions for you to join, organized by the club for all players by level and age. These tournaments can be an excellent opportunity to meet new people and put into practice everything you and your family have learned in your training sessions.
And in addition to the tennis itself, there are more options for enjoyment and leisure: a swimming pool where you can cool off after a hard workout, a state-of-the-art fitness center with physiotherapy and changing rooms, a pro shop with everything you could want, a kids' club for childcare, and a sauna and new restaurant.
So: looking for the top tennis courts in Murcia? Look no further than the resort you already love, where an endless number of high-quality services are now available not only to the owners of our properties on a golf course, but to the tennis community as well.