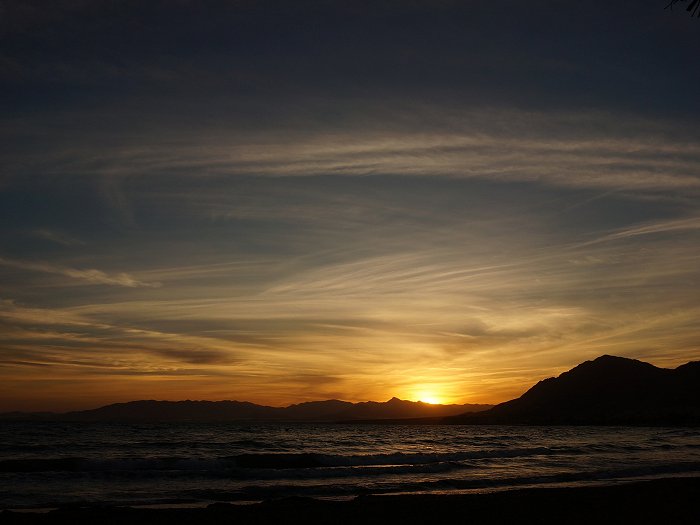 If you are planning to spend your holidays in your residence at La Manga Club, you've surely already packed your golf clubs or tennis rackets to take advantage of our incredible sports facilities. But there are so many more options for leisure and fun, both within the resort and around it. Whatever you do, don't forget that swimsuit! To help you have a truly exceptional vacation, today we recommend 5 essential beaches in the Region of Murcia. These natural landscapes are extraordinary enclaves where you can enjoy the best of the Costa Cálida at any time of the year.
The first stop is Cala del Barco, one of the most spectacular places in the resort (and in the Region of Murcia). Everyone who visits feels its special charm, a product of its cozy nature and clear waters, perfect for taking a dip or snorkeling. A length of only 40 meters and exclusive access from La Manga Club, plus the high cliffs that shield it, make for a protected environment and utter tranquility. At Cala del Barco you can enjoy the sea by day or night: parking and changing facilities, as well as our restaurant La Cala, only serve to heighten the experience. The restaurant is located at the top of the cliff, a perfect location from which to gaze over the Mediterranean Sea while enjoying exquisite cuisine based on high quality fish and seafood, as well as traditional local dishes.
Our second stop is Cala del Pino, an urban beach surrounded by greenery where you can enjoy time with you partner, friends or family. This natural beach on the Mar Menor is 150 meters long and has a picnic area as well as its main attraction: a large pine forest by the sea. The sand is fine and golden, and you can enjoy quiet swims in summer or combine them with a diversity of activities offered by the nautical school (jet ski rental, water skiing, and more). You can also enjoy an aperitif or even eat on the beach, thanks to the various bars and restaurants in the area.
The third stop on our beach tour is Isla Plana. It is a protected natural area, thanks to its central treasure, an urban beach with plenty of visual appeal and a long shoreline of more than 500 meters of sand and sea-tossed stones. Take full advantage of your residence at La Manga Club by visiting this heavenly enclave that's cool in summer and mild in the winter. Don't miss out on hiking the wooden walkway through the surrounding area, where you can see ancient Carthaginian and Roman ruins up close.
Our fourth stop on this route through the best beaches near La Manga Club is La Azohía. As with our other suggestions, this place includes a protected and extensive natural area, with a beach of medium-grain sand and gravel that reaches 800 meters in length and is bathed by crystal-clear waters. Available activities here include diving classes or taking a break from the sun in one of the restaurants.
Finally, you can't take leave of your residence at La Manga Club without trying La Gola beach. Easily accessible and with shallow waters, this beach is located at a special point where the Mediterranean Sea meets the Mar Menor. The result is a beautiful space where the waters are always calm, and you can enjoy a quiet dip in peace.