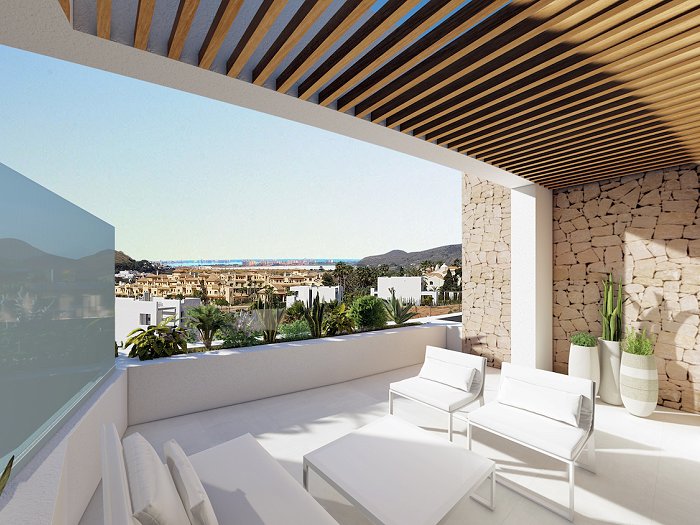 There's nowhere else in Europe like our resort, and if you particularly have your eye on La Manga Club apartments, right now and for a limited time, there are some wonderful bonus packages available for our Las Orquídeas community.
These spectacular 2- and 3-bedroom apartments have all been sold off-plan, but we broke ground on construction in June and we have been very excited to see the progress on this highly anticipated project.
Residents will share a community pool and landscaped gardens on the ground floor of the building, where there is also a dedicated parking area for residents. Prices for the apartments begin at €365,000.
In total, there are 42 luxury units in the community. The apartments are freehold, giving owners the flexibility to use them as much as they wish, or let them for part of the year in a resort that always has great demand thanks to the multiple sport facilities and wonderful holiday packages.
Our ground-floor units all have gardens and particularly large storage units, making them ideal for a backyard barbecue or quiet lounge area. Though the community is very centrally located close to the tennis center, these La Manga Club apartments are also set in a tranquil zone close to the edge of the woods.
The views, particularly from the top floors of the building, are spectacular, looking over the rest of the resort and all the way to the Mar Menor. Large terraces are one of the key attractions of this complex as well, with the living room areas separated from them by sliding glass doors to let as much light in as possible and fuse the indoor and outdoor spaces.
Until December 31st, anyone who purchases a Las Orquídeas apartment may also select one of the following limited-time bonus packages:
30 entrances to the spa, to be used within 2 years of the date the property deed is signed
50 green fees, to be used within 2 years of the date the property deed is signed
3 weekend stays at the Grand Hyatt La Manga Club, of 3 nights each, in a double room with breakfast included. The 9 nights may also be grouped together. The hotel stays must take place between the date of the property reservation and the date of the signing of the property deed, within a maximum of 20 months of the date of the property reservation.
These offers are not cumulative.
Don't miss your chance to become part of this community of La Manga Club apartments at the center of it all, and get a wonderful bonus in the bargain!