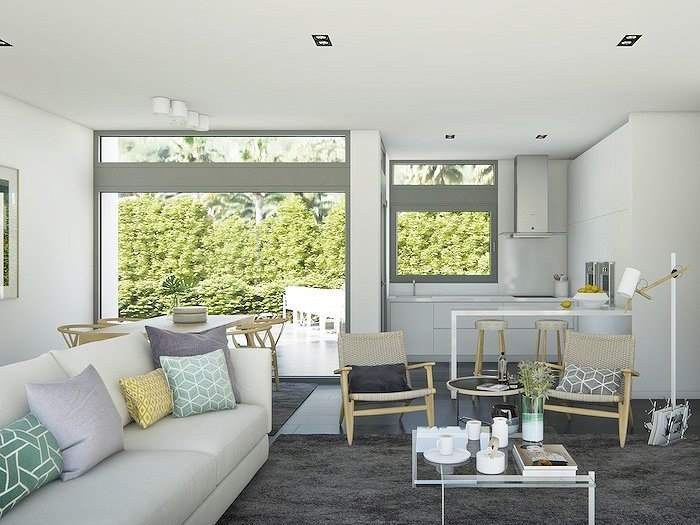 Popular wisdom says that good things come to those who wait. After months of painstaking work and watching brick after brick slide into precise place, here at the La Manga Club Properties Office we are thrilled to participate in the culmination of a dream: the launch of our new residential community, Las Acacias. Before summer arrives, these beautiful luxury villas will be revealed to our residents and friends through the debut of three model homes. Note the date and get ready for an extraordinary experience: the 7th of June our calendar is packed with events designed to celebrate this important step into the future of our beloved golf resort.
The first event for professionals will take place at noon. Our Brokers' Brunch will welcome brokers and representatives from the international luxury real estate sector. They will be the first to walk through these gorgeous contemporary spaces and verify that no expense has been spared on quality in homes designed to seal La Manga Club's commitment to excellence now and for the foreseeable future of our residential community. That same day, at 5pm, we'll hold the official public inauguration with a cocktail that will bring together property owners, friends, and interested parties. Don't miss the registration for this event, where you'll not only get an up-close and personal look inside La Manga Club's best-kept secret, but also enjoy live music and fantastic surprise giveaways.
Representing architectural excellence in its purest form, Las Acacias is a community of 29 luxury villas located at the heart of La Manga Club. With a contemporary air and adhering to the highest quality standards, each has a private pool, gardens, fantastic terraces, private parking, and 24-hour security, and owners may rent them out for up to 18 weeks per year when they are not in use. The model homes that will be presented on the 7th of June are representative of the three home configurations available: single-storey 2-bedroom, with 105 sqm of floorspace on a 540 sqm plot; 3-bedroom, 2-storey homes of 149 sqm on a 540 sqm plot; and 4-bedroom homes of 168 sqm, with an underground garage, on a 621 sqm parcel.
Don't think twice, just secure yourself a place at the event where La Manga Club's vision for the future will be revealed. If you want to come to the cocktail on the 7th of June at 5pm, get in touch with Marta Soler at the Properties Office. Why get your news second-hand when you can bear witness to the extraordinary birth of Las Acacias?