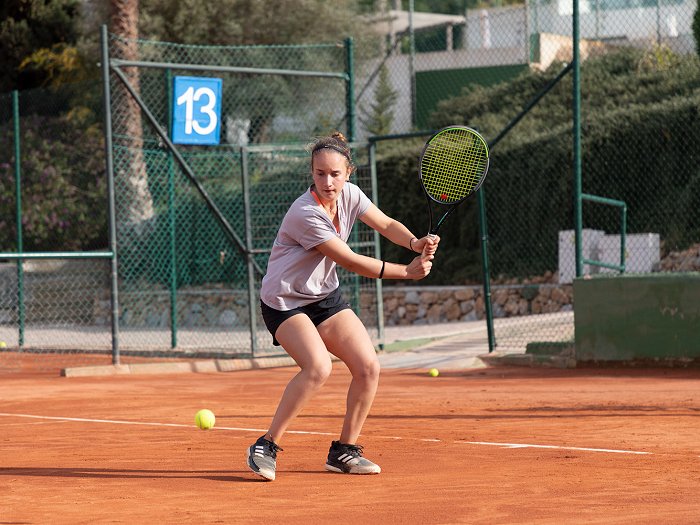 Simple but true: the decision to buy a house at La Manga Club will change your life. The resort's privileged geographical location, impressive golf courses, and surrounding natural parks make it unique among destinations in Spain. What's more, its wide range of services and sports facilities, warm community and 24-hour security make it the perfect place for a home or second residence. Read on for more details!
Internationally renowned sports facilities
If you're a golf lover or a sport enthusiast, deciding to buy a house at La Manga Club will be a dream come true because there are top facilities around every corner. Imagine training surrounded by spectacular views, just a few minutes' walk from your home. La Manga Club has 8 full-sized football and rugby fields, 28 tennis courts and 3 magnificent, internationally renowned 18-hole golf courses, suitable for both amateur and expert players. There's no excuse not to practice your favorite outdoor sports and, best of all, the great weather makes it possible year-round.
Those who enjoy cycling, hiking or mountain biking will never be bored; the Region of Murcia is full of impressive landscapes and beautiful trails with great views. You can learn about the biological, geological and historical heritage of the area while spending a few hours surrounded by nature.
The 560 hectares of our resort complex, plus the extensive surrounding park areas, will provide everything you need to keep fit and recharge your batteries.
Safety, 24-hour protection, and a warm community
Another advantage when you buy a house at La Manga Club is enjoying a safe environment. Feeling protected at all times is the norm in our resort because a security team is on call 24 hours a day, guarding all access points to the complex. As the owner of a new residence, whether you live alone or with family, you won't have to spend additional money for security, nor will you have to worry about your home when you're not there. We provide you with peace of mind, and can help with the maintenance of your home, as well as any other problem or inconvenience that may arise during your stay or when you're away. At the resort, you'll enjoy tranquil days and nights without worrying about a thing.
In addition, you'll be part of an international community in which you'll always feel welcome and find it easy to connect with people from other countries and other parts of Spain. You can look forward to cultural exchanges, sharing anecdotes, meeting up during moments of leisure or having beautiful evenings enjoying the delights of Murcian cuisine in any of the restaurants located within the resort, or in your apartment.
If you are passionate about sports and looking for a place that allows you to be part of one of the most dynamic residential communities in Europe while living in a natural and healthy environment, La Manga Club Properties is for you. Ask us about our wide variety of properties and we will be happy to help you buy a house at La Manga Club, our Murcian paradise.