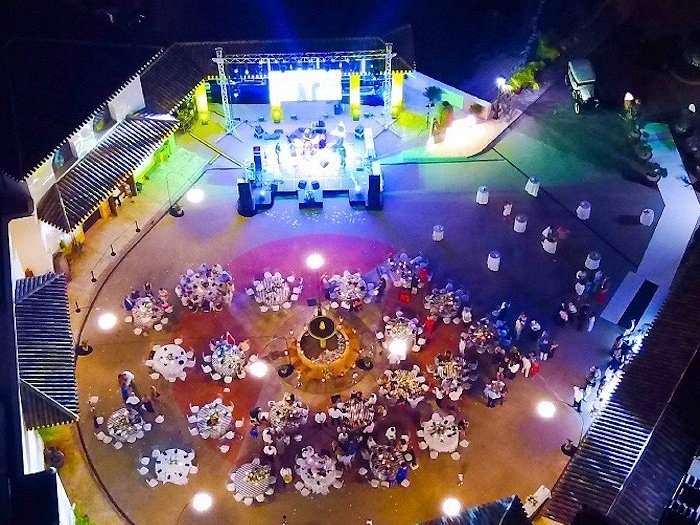 It seems like only yesterday, but it's been five years since we celebrated the first Charity Gala Dinner for the Alda Foundation at La Manga Club, an event that marks a before and after at our golf resort. Since then, every year more and more of our apartment owners have participated in this worthy project that seeks to improve education for at-risk youth in Paraguay. This year, in 2018, you will again have a variety of participation options open to you. In addition to the exceptional Gala Dinner on the 27th of July in the Príncipe Felipe 5* Hotel, we'll be celebrating our Charity Week in the prior days, filled with sport and fun. Take note!
Tennis Day
We begin on Monday, the 23rd, when you are invited to a family fun day for the Alda Foundation in the Tennis Centre. With the aim of helping the littlest among us to understand some of the difficulties in countries like Paraguay when it comes to completing an education, we'll be hosting an afternoon of games with Max the mascot, featuring an exhibition match from our tennis professionals. The activities run from 16-20h and tickets are €30 per adult and €15 per child. Admission also includes participation in the racket games, and paella and drinks for every guest.
Reservations Tennis Centre
Telephone: 968 33 1234 ext. 8089
tenis@lamangaclub.com
Golf tournament
The following day, Tuesday the 24th of July, golf will take centre stage as we host a charity partner tournament. Mark your calendar if you're interested: the day begins just a hop from your apartment at La Manga Club on the South Course at 9h. The price is €35 for members, €50 for non-member adults, and €25 for children.
Reservations Golf Department
Telephone: 968 33 1234 ext. 1360
golf@lamangaclub.com
Mini Football World Cup
Continuing with the sporting events, Wednesday the 25th will see a football match held on the same pitch that has hosted some of the biggest stars of the football world. The match is always a great draw for the children and adolescents invited to participate in this World Cup for players between 7 and 16 years old beginning at 18h. The price is €35 per participant, and all players will receive an Alda Foundation t-shirt as thanks for contributing to the cause of improved education in Paraguay.
Reservations Tennis Centre
Telephone: 968 33 1234 ext. 8089
tenis@lamangaclub.com
Gala Dinner
And of course, the jewel in the crown of the week will be the Gala Charity Dinner celebrated on Friday, the 27th of July, on the terrace of the Príncipe Felipe 5* Hotel at La Manga Club, beginning at 20h. This fifth anniversary of the event in 2018 will take as its theme a Brazilian festival inspired by Copacabana, one of the most famous neighbourhoods of Rio de Janeiro. The dress code is elegant but casual, so go ahead and begin planning what to wear to this unmissable event of the summer hosted near your property at La Manga Club. Tickets – €80 for adults and €35 for children – include a welcome cocktail, an extraordinary buffet, a capoeira exhibition and a Brazilian show, live music from David Sooper and The Black Brothers, an open bar until midnight, and once again, a charity auction featuring surprises and great gifts. Don't miss it!
Reservations: The Client Services Centre – Príncipe Felipe Hotel
Telephone: 968 33 1260 ext. 8770
info@lamangaclub.com
So you see, just meters from your residence at La Manga Club we'll be dedicating a full week to the Alda Foundation, in the hopes of improving education for at-risk youth in Paraguay. If you love sport and/or want to attend the Gala Dinner, which has become a staple event of the Murcian summer, or you simply want to contribute to this important social cause, we encourage you to come along. Remember, be at our golf resort from the 23rd to the 27th of July!