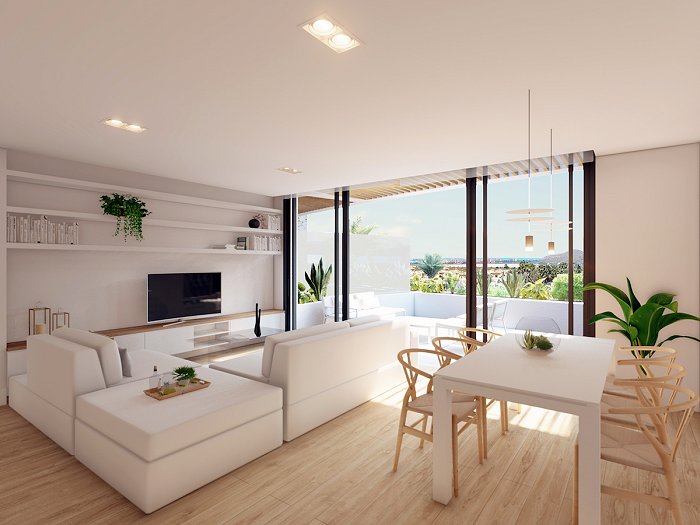 Imagine waking every day to views of the Mar Menor and at the heart of the best sport and leisure complex in Europe. Owning real estate property at La Manga Club means enjoying life to the fullest, and with Las Orquídeas, our latest exclusive collection of 42 independent apartments, these additional luxuries are within your reach. Today we'll tell you all about this new residential community at La Manga Club Resort. It's a dream for anyone looking not only for new-build modern apartments, but a second residence where you can enjoy a perfect union between interior and exterior, accompanied year-round by the sunny weather of the eastern Spanish coast.
Modern design, elegance and security
2- and 3-bedroom configurations for maximum relaxation and comfort, high quality fixtures, and contemporary design, are just a few of the exceptional features of this recently released collection of luxury apartments at La Manga Club.
And if to these luxurious details we add spacious terraces perfect for wonderful moonlit evenings, large windows that flood the interior with natural light, spectacular views of the sea, attic apartments with the option to install a Jacuzzi, a communal outdoor swimming pool for hot summer days, and sculpted gardens, it makes for a perfect balance between quality, form and functionality.
An added advantage of acquiring a residence at Las Orquídeas is that all owners have parking, a storage room and 24-hour security service, ensuring you enjoy a peaceful stay and remain worry-free when you're away.
A short hop from everything you need
Located in an elevated position with lovely views of the adjacent Las Acacias community, the Las Orquídeas apartments are just 5 minutes from the center of La Manga Club. You can walk to all the shops or any of numerous bars and restaurants to enjoy a drink at sunset or delight in exquisite seafood, or Italian, Spanish, or Asian fare, among other choices.
And, as you already know, one of the great attractions of the La Manga Club golf resort is its location in the privileged enclave of the Mediterranean coast, where we enjoy sun and temperate weather throughout the year and some spectacular beaches that we assure you are worth exploring. But La Manga Club's own beach and beach restaurant are a delight in themselves, nestled in a protected cove that offers a haven of calm on one of the most active coasts in the country.
Keep fit and have fun in our first-class sports facilities
There's nothing better to activate the body and start the day right than a bit of sport and, if you can do it in a beautiful natural environment, all the better. Buying an apartment in the Las Orquídeas complex makes it easy to establish an exercise routine that will contribute to your well-being and leisure because you'll be surrounded by a magnificent landscape and have access to all of La Manga Club's first-class sports facilities.
Our 1,400 acres include three internationally renowned 18-hole golf courses, professional football pitches, 28 modern tennis courts, academies designed to help you learn or improve your technique and performance, routes for cycling and running, and a Wellness Center where you can finish the day with a massage or a spa treatment. This is a residential complex in which, just a few meters from your home, you'll find everything you need to practice any type of sport, enjoy the outdoors and relax in a pristine environment.
A luxury apartment in La Manga Club lets you enjoy the privacy of your second home, but also benefit from the myriad amenities and services of a resort community. And our dream location on the coast in a fascinating region of Spain provides unique attractions even outside the complex. If you want to see for yourself what makes Las Orquídeas a great personal choice and a safe investment, come visit us and get your first taste of our little paradise.
Meanwhile, take one of our virtual tours and let yourself begin to dream: watch the virtual tour.