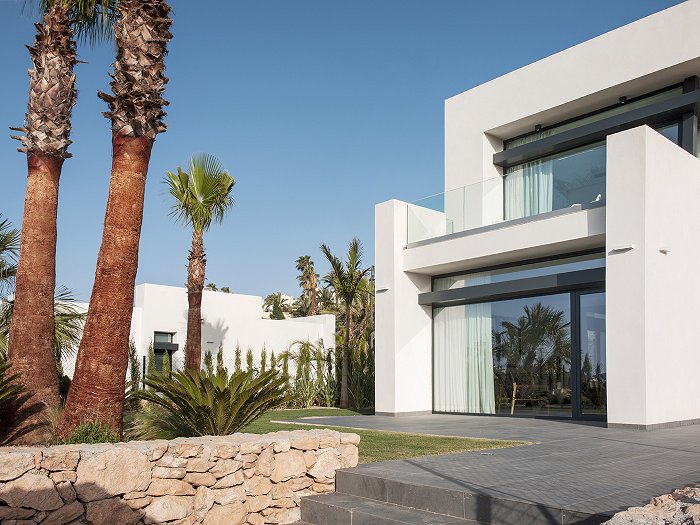 Clean lines merge perfectly with the Costa Cálida landscape. Simple, elegant shapes create a modern architectural aesthetic in La Manga Club Properties' latest projects: Las Acacias and Las Orquídeas. We sat down with the Innov · arq architectural studio, the designers of both residential complexes, to hear how these projects were conceived and how shared architectural language and construction materials can nonetheless result in two unique products that respond to buyers' different ways of life.
Your studio is responsible for these two contemporary projects at La Manga Club. What does it mean to lead two residential projects as different as Las Orquídeas and Las Acacias?
It is a great honor for us to have been given two projects of this size. Being able to be involved from initial concept through execution and construction of a project is a magnificent opportunity for any architecture studio.
Both communities offer a modern approach to living, whether the residences are apartments or villas. What differences would you highlight between these projects?
The main difference between Las Acacias and Las Orquídeas is that they respond to different ways of life. Las Acacias villas are standalone, independent villas adapted to their owners' specific needs. Las Orquídeas, on the other hand, are apartments that, though they enjoy complete privacy from one other, share common areas, and are designed for buyers who want to form part of a community where there is casual social interaction in everyday life.
However, the two projects also have much in common: both projects were born with the objective of creating a new La Manga Club residential complex, with modern architecture executed to the highest standards, both physically and environmentally. Las Acacias and Las Orquídeas share an architectural language, as well as construction materials and finishings.
What are the strengths of each architectural concept?
Though these are two different projects, they share many strengths. Both reflect an architectural aesthetic that elevates volumetric simplicity, elegance and modernity. The projects have similar visual aesthetics, with the white facades typical of the Mediterranean. Natural stone has been extensively used throughout the grounds of each community, and the outer volumes are broken up with fixed, sliding, and folding panels made with high-quality aluminum.
Another strong and distinctive aspect of these projects is the way that nature is integrated into the homes and articulates the outdoor spaces, creating a very pleasant natural environment for the community. Sustainability is a major consideration in both projects, both with regard to the materials used and in the way the facilities are constructed and employed. This has enabled us to develop very energy-efficient homes.
What role does the natural enclave of the Costa Blanca serve?
It's fundamental to both projects, and one of the main selling points. The Costa Blanca and the Costa Cálida are idyllic places, rich in culture and history, with fantastic cuisine and unbeatable weather. We try to contribute positively with our designs so that the area can also boast good architecture and enhance the region's attractions.
What does it mean for an architect to tackle a project in a consolidated residential community like La Manga Club?
Tackling two new projects like Las Acacias and Las Orquídeas in a complex like this one is a unique opportunity. It was a big challenge, and ambitious, but also exciting. From the beginning, we were allowed to develop the kind of architecture we love and think La Manga Club needs: contemporary designs that can stand alongside the resort's existing architecture. Creating something you're passionate about, in an idyllic location, is every architect's dream. We will always be grateful for this opportunity.
How do these communities and their contemporary style fit into a place with so many diverse architectural influences?
Each community within the complex has responded to the demands of the market at a given point in time. Right now, we think the time is right for La Manga Club to offer contemporary architecture with lines that seek simplicity in their expression. But it is positive for a complex to offer multiple different types of architecture. The residential complexes of La Manga Club are diverse: some are traditional in style, some influenced by Arab architecture, and there are also unique residential complexes like the Golf Bungalow apartments by Antonio Bonet that use modern architectural language. This generates a wonderful diversity and an architectural richness that elevates the whole.
Las Orquídeas and Las Acacias appeal to buyers who invest in design as much as in the living space. Does this mentality mean the architect's renown is the most important feature of a property?
We believe that what people are really searching for is quality, not a name. Both Las Orquídeas and Las Acacias are projects of great architectural quality, from design through construction. A good team is fundamental in ensuring that the process is exacting in its standards from the initial conception to the execution of the construction. Ultimately, we think this should be what a "name" architect guarantees: a unique, quality product that meets the needs and tastes of the owner.
At La Manga Club and other important resorts, the percentage of foreign owners is often large. Are cultural expectations taken into account when designing homes?
For a single-family custom home like a Las Acacias villa, the design must respond to the needs of a specific client, and their preferences are therefore taken into account. These are often influenced by their culture of origin.
In a complex like Las Orquídeas, the process is somewhat different. We seek to create homes that are attractive to the largest number of people. Of course, we take into account that most of the owners may be British or from central or northern Europe, and we try to design homes that maximize the enjoyment of the Mediterranean sun, with large terraces, solariums and gardens.
This past year has been a challenging one for foreign residents in Spain and, from an investment point of view, many are beginning to consider resorts to be the safest kind of investment. Have you noted this effect in your studio?
The pandemic has certainly represented a turning point in the way people live, and will undoubtedly influence the way homes are built from now on. We have noted this effect in the studio; there is much more demand for plots in complexes like La Manga Club than before the pandemic.
How has the pandemic changed the way people think of their domestic spaces?
The pandemic has revealed certain deficiencies in some of our homes and residential areas, and we think it's the duty of architecture to offer solutions. The zoning of spaces, security, functionality and comfort are priorities in new design. Likewise, we have to respond to the possibility of – or active practice of – remote work. It's now crucial to design homes that allow us to carry out our work activities, creating new spaces in which users can be independent from the rest of the home during the working day, without stepping away from it.
Do you think these changes are here to stay?
Absolutely. Our recent experience has influenced many aspects of architecture that we won't be able to ignore in future designs. As we said above, remote work may be the most obvious example, but the enhancement of outdoor spaces for recreation and rest is also important, as is the comfort of the indoor space. Fortunately, these are changes that the Las Acacias and Las Orquídeas homes already respond to.