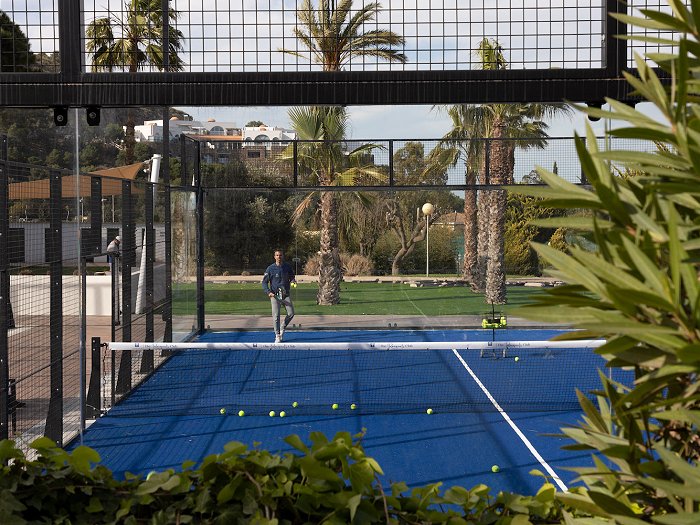 December, January, and February are months that evoke snowy landscapes and fireplaces in northern countries, but there's plenty to do in La Manga in winter. Offering an exceptionally pleasant climate during the colder months, this beautiful peninsula on the coast of Spain will break all of your winter stereotypes with its attractions for outdoor enthusiasts. Golf, tennis, hiking, walks on the beach, terrace restaurants: La Manga offers a wide range of activities to enjoy. And if it's a day you don't feel like going for a walk, there's nothing better than treating yourself to the dining and wellness offer at the Grand Hyatt Hotel in La Manga Club Resort.
The ideal winter temperature
In La Manga, winter has never been synonymous with freezing temperatures and dark days. Quite the opposite: this Mediterranean region has a mild and pleasant climate all year round. With temperatures ranging between 15 and 20º C, visitors can comfortably enjoy a multitude of outdoor activities. The combination of this mild winter climate and the area's breathtaking scenery creates a perfect setting for exploring and immersing yourself in nature. The sun shines on the horizon, the sea breeze creates a pleasant atmosphere, the beaches are a blank canvas for your barefoot walks along the shore… In La Manga, winter is a harmonious blend of nature and outdoor activities, where everything you do will result in a feeling of satisfaction and oneness with the surrounding environment.
The best facilities in the best resort
One of the highlights of La Manga in winter is the non-stop leisure and sport offer available at La Manga Club resort. This luxury destination has facilities and services to suit all tastes. Golf enthusiasts will delight in its three 18-hole courses that have hosted professional tournaments, and where you can take a lesson or play golf with the family. Tennis lovers of all ages will also be amazed by the newly refurbished 28-court tennis center, The Racquets Club, where you can play to your heart's content or get some personalized training.
But that's not all. In addition to being one of the best golf resorts in Europe, La Manga Club also has a host of first-class services: a magnificent spa, gyms, a wide variety of restaurants offering local and international cuisine, and daily activities. It's a must for anyone who loves to live the good life.
Beaches are for winter, too
Enjoying the sun and the sea outside the summer months is a true privilege. La Manga is bounded by two seas: the Mar Menor and the Mediterranean, each with its own characteristics. The Mar Menor is known for its warm, shallow waters, making it an ideal place for watersports like windsurfing, paddleboarding and sailing. There are schools that offer classes for beginners and experts alike. On the other hand, the beaches of the Mediterranean Sea are perfect for long walks along the shore and enjoying the tranquil nature of the surroundings.
Besides the beaches of La Manga itself, there are many others nearby worth exploring. One of them is Cabo de Palos, next to a charming fishing village with a beautiful coastline and a picturesque marina. Others are the beaches of nearby Calblanque Natural Park. This protected reserve offers stunning coastal scenery, sand dunes, cliffs and pristine beaches where you can enjoy comforting walks, the ocean, and bird watching while immersing yourself in the calm and beauty of the park.
La Manga in winter is a perfect destination for those who want to get out and active rather than hibernating at home. Our residents at La Manga Club with houses on a golf course are already enjoying the benefits of traveling to this paradise at any time of the year. What about you?