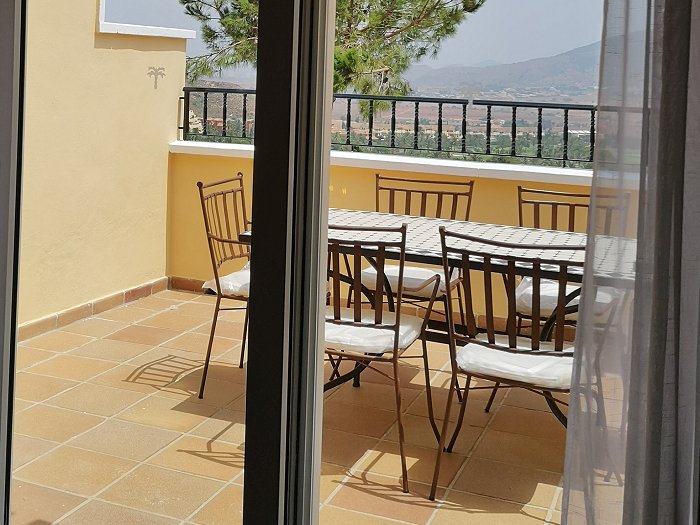 La Manga Club Properties' exclusive collection of renovated apartments in Spain, Las Lomas Selection, was launched as a product for those seeking high degrees of flexibility in their holiday home usage. Owners who plan to use their apartment personally can do so all year long, but those who would like to rent their property to holidaymakers are also legally able, thanks to the tourism license held by the community.
The Lomas Village community consists of several dozen apartments located at the higher elevations of La Manga Club. Completely furnished with tasteful decorations, furniture, and fixtures, the properties have renovated bathrooms and kitchens. Each has at least one balcony or terrace from which to enjoy the great views over the resort and the mountains.
Only two of these special renovated apartments in Spain remain!
The two-bedroom still available comprises 126 sqm. of interior space with a 22 sqm. outdoor terrace. The built-in barbecue makes it the perfect venue for entertaining friends or dining outdoors with just the family. Central heating and air conditioning mean you can enjoy the apartment at any time of year, and the high ceilings and two bathrooms offer a sense of spaciousness. This incredible opportunity is available for €240,000.
We also have a one-bedroom option for those planning on visiting without guests or additional family members. For the outstanding price of only €150,000, you can own a home in La Manga Club that also offers a sizable outdoor terrace of 24 sqm. with a built-in barbecue and 87 sqm. of interior space. It's the perfect weekend getaway in the best sport and leisure resort in southern Europe.
Contact our team today to learn more about the amenities of these unique renovated apartments in Spain and all the other advantages of becoming part of the larger La Manga Club community. In 2022, we are celebrating 50 years as a top destination for international sport lovers, and we're proud to say that our resort remains as welcoming and warm as ever.