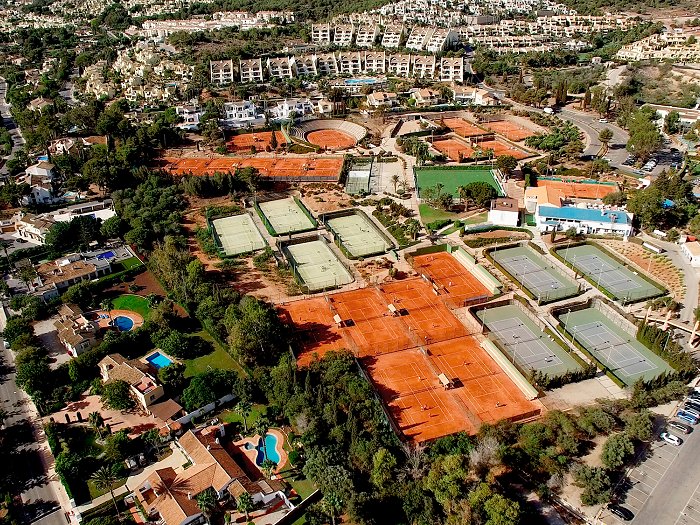 The La Manga Club Tennis Centre, long one of the most important resort tennis complexes in Europe, plans to stay at the top of the list. The resort has signed a new agreement with developer and operator LMC Racquets Club to invest almost 2 million Euros into the renovation of the Centre facilities.
A new state-of-the-art fitness center and 7 new paddle tennis courts will be added to the existing 28 tennis courts. Paddle continues to be the second-most popular sport in Spain, with exponential growth in popularity in the UK and other European countries. In addition, the tennis clubhouse will be renovated to include a bar – cafeteria, making the Centre a place players can comfortably spend the majority of their day.
The La Manga Club Tennis Centre has, for years, been a popular destination for professionals and amateurs alike. It hosted the match between Japan and Spain, featuring Naomi Osaka and Sara Sorribes, for the 2020 Fed Cup, and one of the elimination matches for the same competition in 2018. Between 2012 and 2019, La Manga Club served as the foreign base for the British Lawn Tennis Association (LTA). And in 1991, the Tennis Centre hosted the Davis Cup.
Alongside these exciting events, the Tennis Academy has maintained a very strong teaching programme of all standards for children and adults throughout the year, with specialty packages offered during holiday periods. La Manga Club also houses an Elite Academy, serving advanced players, that is led by Tennis Director and former ATP player Miguel Dios.
Spanish hotel group Hesperia, owner of La Manga Club, welcomes the breath of fresh air that this investment in the Tennis Centre represents. The General Director, Gonzalo Alcaraz, noted, "We are very excited to announce these new plans for investment in the La Manga Club Tennis Centre. Our ambitions for the resort and our international perspective are driving us to continue improving the quality of our services. We want to be a reference point not only in Spain but in the rest of Europe."
The new construction and renovation plans are already being executed and are due to be completed by April of 2022. The La Manga Club Tennis Centre facilities will remain open throughout the renovation period.