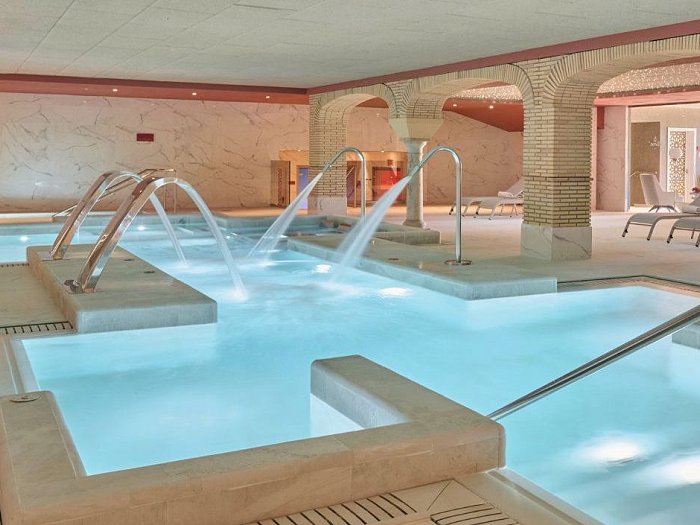 If you're not aware, the La Manga Club Grand Hyatt pool is open to visitors, even if you're not a hotel guest. This is your chance to explore the facilities and services of our new hotel, and we think you'll be very pleased with your experience. The opening of the first Grand Hyatt in Spain brings with it totally renovated interiors, but also new facilities, services, and restaurants you'll love.
The Grand Hyatt now has three water areas you can partake of with a variety of day passes. The best thing about these passes is that they come with lunch at the Sol y Sombra restaurant, so you don't need to worry about where to eat or how much more time you have on the clock before you'll have to break for food.
For those looking to spend a day out with the children, you can purchase day passes for the Family Pool, located at the center of the hotel. There is a children's pool there as well. A day pass, which includes lunch at Sol y Sombra, is €80 per adult and €55 per child.
If you're by yourself or looking for a place to spend some time with your partner, you may want to try the brand-new adults-only infinity pool, where you can relax away from the bustle of the central areas. This pass, which also includes lunch at the same restaurant, is €80 per adult.
And finally, if you're looking for a really special experience and haven't explored the new Alma Spa, try the spa pool package or gift it to someone you love. The Spa Day Pass is for the full day at the La Cascada Pool, plus a 2-hour-per-person access to the spa hydrotherapy area, plus lunch at Sol y Sombra. In addition, you'll receive a 10% discount on any spa treatments you decide to try. The price for this incredible package is just €100 per adult.
If you'd like to take advantage of any of these offers, they are open to residents and any other guests of the resort not staying at the hotel. Keep in mind the following conditions:
You must book your day pass beforehand at the hotel Reception Desk. Payment is required in advance and the passes are subject to availability.
Lunch includes a first and second course as well as dessert, water, and non-alcoholic beverages. The children's menu is available for children under 12 years old.
You must be 18 years old to enter the adults-only pool
Don't miss this chance to try a La Manga Club Grand Hyatt pool day pass and indulge in the delights of our resort!