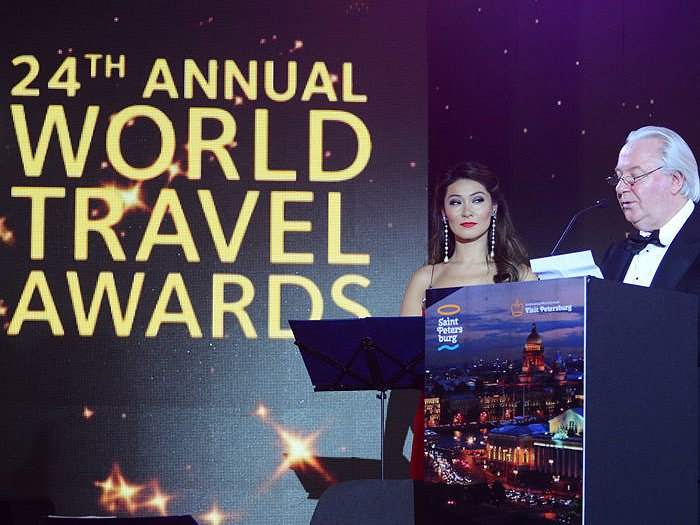 When you're one of Europe's most veteran golf and leisure resorts, it's easy to take awards and recognition for granted, but that's not our attitude here at La Manga Club. Though we've received dozens of prizes over the years, every new distinction is a cause for pride and celebration among the people who work every day to ensure that the guests in our hotel and the owners of our villas and apartments at La Manga Club have a unique experience at every turn in our Mediterranean resort.
The latest international award that will take a place of honour in our trophy case is "Europe's Leading Luxury Resort & Villas 2017", from the World Travel Awards 2017. We were delighted to receive this prestigious accolade at the Marble Hall, the present-day headquarters of the Russian Museum of Ethnography in Saint Petersburg, Russia.
Considered the "Oscars of the tourism industry," these awards are bestowed through a voting process among travel and tourism professionals and business and leisure travel consumers worldwide, and they acknowledge and reward excellence in the sector. According to the organizers, La Manga Club has consistently demonstrated its commitment to outstanding levels of quality and service over the past 12 months.
For José Asenjo, the General Manager of La Manga Club, this achievement is the result of the resort's strategy of continuing to invest heavily in its leisure and sport facilities: "We have a proven winning formula which continues to attract guests from all over the world, and this honour is testament to the desire, hard work and dedication of the team to deliver five-star service throughout the resort."
This isn't the only accolade La Manga Club has received this year. Golf Digest magazine has given us an "Editors' Choice Award for the Best International Resorts 2017", and for the sixth consecutive year we were named "Spain's Best Golf Resort" by readers of Today's Golfer.
We are extremely honoured to receive this recognition and positive feedback from the industry and our guests, and this is our strongest motivation to continue to pursue the excellence that, since 1972, has attracted some of the best players in the world and millions of visitors to our first-class sport facilities and dynamic community of owners. That is the real reward that keeps us going every day.