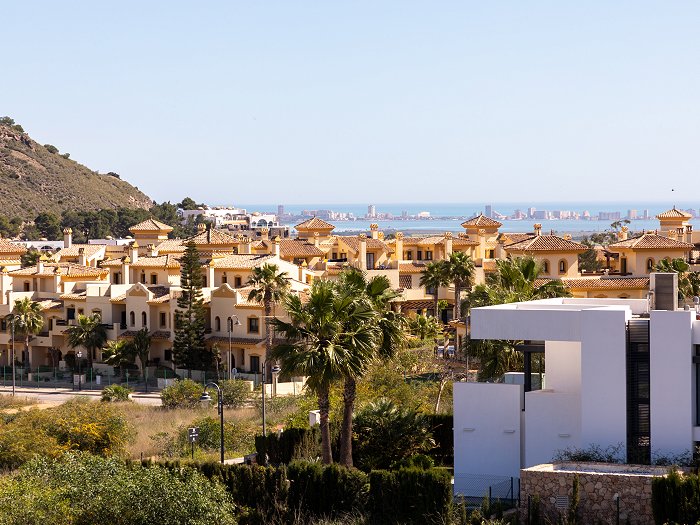 If the idea of investing in Spain has been on your mind for some time, La Manga Club is a consolidated and reliable option to consider. When it comes to investing in real estate, Spain in general has proven to be an attractive market for national and international investors and our sport resort, located in Cartagena, Murcia, offers outstanding benefits that guarantee the success of any investment. Its first-class facilities and services include golf courses, tennis courts, spas and restaurants, and the newly opened Grand Hyatt La Manga Club Golf & Spa has only served to reinforce its prestige in the region. In this context, our resort properties have seen their commercial value increase and spurred renewed interest in buyers seeking an apartment or a villa as a second home in Spain. In addition, the entire region's real estate market has shown steady growth in recent years, suggesting a potential for further property appreciation. Let's take a closer look.
La Manga Club: a reliable consolidated project
Over its more than 50 years of history, La Manga Club has developed an impeccable reputation in Spain and abroad as one of the best golf and tennis resorts for amateurs and professionals alike. Its advantages are numerous and go beyond what one might expect. To begin with, its proximity to Murcia's best beaches is a key factor for both investors and tourists. With an exceptional Mediterranean climate, more than 300 days of sunshine a year and a stable, warm temperature, it is the perfect destination for a Costa Cálida holiday or getaway at any time of the year.
In addition, the resort offers a wide range of facilities and services to meet all the needs of its residents and guests. From championship golf courses and tennis courts to spas, gourmet restaurants and an exclusive beach club, La Manga Club has everything necessary to guarantee a unique, relaxing experience in a comfortable and safe environment. Sport and nature lovers will find a paradise that combines physical activity with tranquility and wellness.
It is also the location chosen for the first Grand Hyatt in Spain, giving La Manga Club owners and guests access to the facilities and services of this renowned luxury hotel brand. From restaurants and bars to spa and wellness services, owners can enjoy a sophisticated and exclusive stay, complemented by comfort and excellent service.
Looking to the future
La Manga Club continues to evolve, developing modern and avant-garde real estate projects as well. Among them are the Las Acacias villas and the Las Orquídeas apartments. These properties have been designed with excellence and comfort in mind, combining architectural elegance with the highest quality materials and making investing in Spain worthwhile in the short and long term.
The Las Acacias villas are a stunning example of state-of-the-art architecture and design. These spacious private residences have been meticulously planned to offer an intimate atmosphere. And with panoramic views of the region's breathtaking landscapes, the Las Acacias villas give residents an eye onto an oasis of tranquility and natural beauty. Every detail has been carefully considered, from the high-quality finishes to the spacious terraces and private gardens, with the result being an elegant and welcoming environment.
The modern Las Orquídeas apartments are a more compact but no less sophisticated option. They offer contemporary design and convenience, perfect for those seeking a sophisticated home in an exclusive setting. With smart-home design at the fore and and top brands supplying the finishes and fixtures, they are designed to maximize comfort in a beautiful space. In addition, they feature private balconies or terraces that allow you to enjoy views of the resort's lush gardens.
Both of these real estate projects offer access to the excellent facilities and services of La Manga Club, including swimming pools and lounge areas, gyms and social clubs, and a true community experience.
With the demand for rental apartments on the Costa Cálida so high, owners also have an opportunity to generate additional income by renting out their properties during periods when they are not in use. An attractive short-term return on investment and greater profitability are the icing on the cake of these perfect second homes.
In short, La Manga Club is the answer for those who wish to invest in Spain. Whether your goal is to take up permanent residence, have a holiday home or rent out your property, our luxury resort offers style, uniqueness and a privileged environment, located in one of the best parts of the Spanish Costa Cálida.