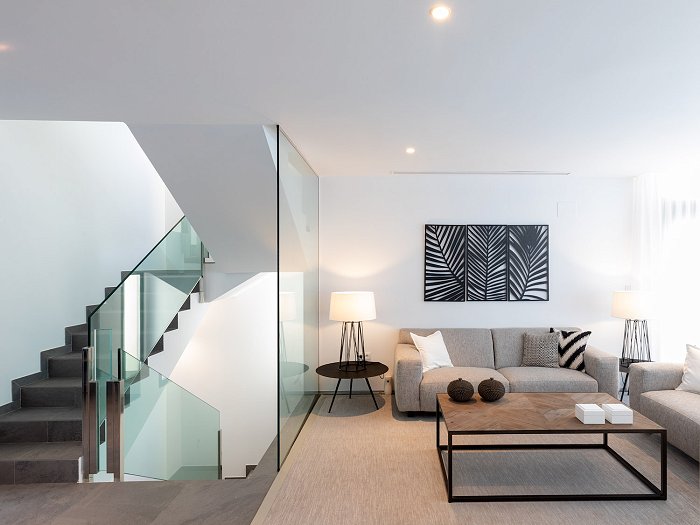 Remote work has transformed the concept of holidays in the luxury segment, blurring the line between leisure and work. Now, both can come together in time and space, when discerning clients look for a home that serves their professional needs and their family leisure time.
This new duality has been perfectly addressed by Rita Rosés Interior Design, the eponymous studio of the Barcelona decorator who has worked on several interior design projects for the Las Acacias villas at La Manga Club, in Murcia. Here at the resort, the sun shines 300 days a year, and it has become one of the favorite destinations of foreign businessmen and executives striving to make Las Acacias their home for much of the year, treating these villas with the care usually reserved for a primary residence.
Rita Roses has 30 years of experience decorating these types of luxury homes and her priority is always to create spaces that harmonize with the architecture and the environment. For her tools, she chooses natural materials like wood, and she's inspired by the colors offered by nature. The sea, the sky and the sand each have a chromatic representation inside the houses that she designs to ensure a space "that is functional, beautiful, simple, and natural."
Her work on the Las Acacias villas at La Manga Club Properties, designed by architects Jaume Cortés and Rafael Cano from the INNOV·ARQ studio, was a challenge she faced with the same objective as the rest of her projects: to create contemporary and functional spaces, with a warm sophistication that evokes distinction, elegance and fluidity. Another of her signature hallmarks is incorporating local cultural references. And the ultimate goal is for the owner to connect emotionally with the house, in a space that transmits calm and comfort.
"This project responds to a change in our way of life," asserts Rosés. "There are spaces here that are equipped to create an ideal professional atmosphere. They are flexible, adaptable. Both the architecture and the furniture allow for a perfect indoor and outdoor office environment and are designed for owners who value both their professional obligations and their quality of life."
Las Acacias is a La Manga Club Properties development, and offers villas with two, three or four bedrooms, plus a garden, a private swimming pool, and private parking. The resort has 24-hour security, and the community is located in a central location within La Manga Club, a few minutes' walk from the shops, restaurants, golf courses, tennis courts, kids' camps, and other sport facilities, to which owners have access with special discounts.
The surrounding area offers great tourism attractions, including Calblanque and the Monte de las Cenizas Natural Park, as well as Cabo de Palos, an internationally recognized marine reserve. An extensive road network connects La Manga Club with other towns in the area and with the rest of Spain. The local airports of San Javier (30 km away) and Alicante (less than 100 km away), as well as the train stations of Alicante and Murcia, allow easy access to all parts of Cartagena, an area with a privileged climate all year round.
Born in Barcelona, Rosés has degrees in psychology and interior design. She has worked in design for retail, hospitality, office and residential spaces, on projects including decoration, interior design, architecture and renovation.
Other outstanding work includes the Las Terrazas de Abama Suites and Los Jardines de Abama Suites hotels, and several custom villa projects at Abama Resort Tenerife, in the Canary Islands, one of the most exclusive destinations in Europe.