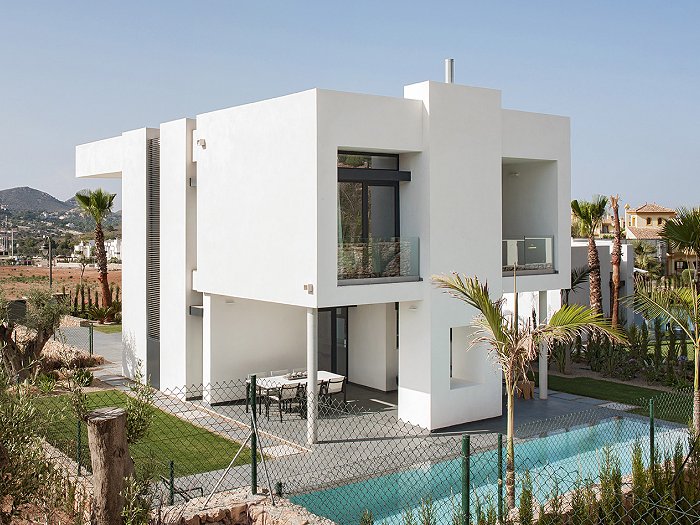 If you are looking for a second home in Europe and are interested in a luxury property at La Manga Club, the modern and spectacular Las Acacias villas will meet your most demanding requirements. High-calibre finishes combine with incredible first-class services and amenities, an excellent year-round climate, a unique setting in a beautiful landscape, rich and varied local culture, and a vibrant international community. Their central location makes Las Acacias a golf lover's dream in a resort that boasts 3 professional courses designed by world-class golfers. Ready to join one of the most dynamic residential communities in Europe with refined contemporary luxury? Las Acacias awaits you.
Elegant villas in an unbeatable location
This community of 29 luxury villas in the exclusive and modern La Manga Club, inaugurated in 2018 to mark a new beginning in our real estate development, combines modern architecture with the highest quality materials for a totally innovative design that reflects the philosophy of our resort: relaxed luxury and elegance. Featuring plots of between 500 and 742 m² , with 2-, 3- or 4-bedroom villas available, private parking and exclusive light-filled interiors, a Las Acacias luxury property is the perfect residence for lovers of the temperate Mediterranean climate. Stunning swimming pools adjacent to private gardens with spacious terraces allow you to soak up the sunshine all year round whilst enjoying spectacular sea views and the beautiful natural parks that surround La Manga Club. In addition, the properties are in an unbeatable location, allowing not only maximum privacy and seclusion, but also placing you within easy reach of the central services of La Manga Club: shops, restaurants, supermarkets, a spa and sports facilities which can be accessed at discount with the La Manga Club Card for property owners.
Also, although you will want for nothing at the resort, the Region of Murcia offers countless additional options to soak up culture and cuisine, enjoy idyllic beaches and explore natural areas of unique beauty such as the Calblanque Regional Park and the Cabo de Palos and Islas Hormigas Marine Reserve, among others.
The best golf courses in Europe adjacent to your property
Imagine leaving your home and being in a top-quality sports facility in just a few short minutes that you can access at any time. This is one of the exclusive benefits of owning luxury homes at La Manga Club. Surrounded by spectacular views, palm trees, a variety of lakes and ravines, you can enjoy hours and hours of sport: the aforementioned three 18-hole golf courses, our crown jewels with features for both amateur and expert players, but also football and rugby fields, tennis courts and much more. La Manga Club's reputation as one of the best golf resorts in Europe, according to the World Travel Awards, is down to the excellent services and the design of world-class professionals such as Robert Dean Putman, Arnold Palmer and Dave Thomas.
It was the latter who designed the West Course with its ravines, slopes and elevations that require precise technique and mastery of the sport and present a challenge for any player. Thanks to its spectacular design and high level of complexity, this course has been included in the Top 100 Best Golf Courses in Europe.
Furthermore, just a short walk from your luxury La Manga Club property, you have at your disposal a Pitch & Putt designed by the renowned Severiano Ballesteros, as well as a great driving range and a golf academy to make your first foray into this sport or to perfect your technique and play with the greats.
Las Acacias offers access to a complete and impressive range of high-quality facilities, unbeatable services, and a selection of gourmet and leisure choices sure to satisfy anyone. Wait no longer to enquire about our modern, bright and spectacular homes in one of the most important residential and sports destinations in Europe.