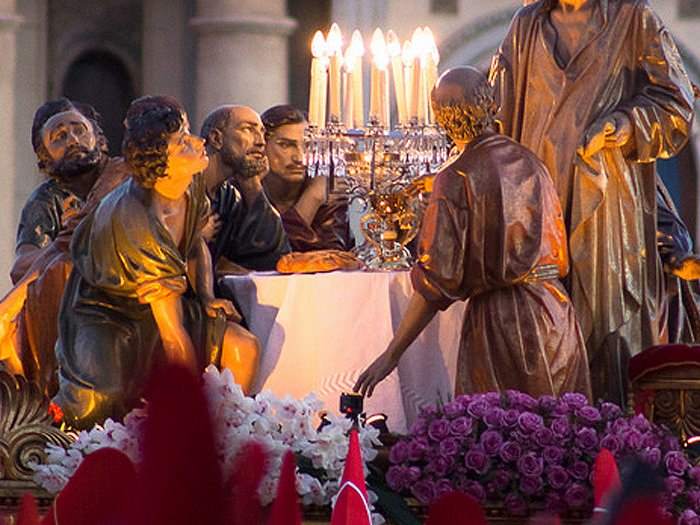 Ten days, ten opportunities to venture out from your La Manga Club property to celebrations recognized around the world: Murcia's Holy Week. Not only do the participants put their religious fervour on display, but also their enormous "bellies" filled with candy and Easter chocolates. Only in the capital of the region will you be able to enjoy this curious distribution of sweets, while also seeing a holiday named of "International Tourism Interest". From the 12th to the 21st of April, join the thousands of native Spaniards and tourists that will be present at the multiple processions planned, and enjoy everything you can see less than an hour by car from our golf resort.
When Easter approaches, you're doubtless already thinking about how to enjoy typical Holy Week dishes at your La Manga Club property, but today we propose that you leave room in your agenda for Murcia's exceptional processions. A perfect combination of spirituality and art, thanks to the well-rehearsed steps of the 15 "cofradias" or brotherhoods, Holy Week begins on Friday with dozens of events accompanied by the odours of flowers and incense. Accompanied by the sounds of "bocinas" and drums, the participants and their luminous garments move among the people not only to invoke the emotion of the Passion, Death, and Resurrection of Jesus, but also to distribute candy, boiled eggs, and lima beans. These were the types of staple foods that were distributed among the people in old times, especially the poor… Today this is a tourism and folklore event, ideal for the curious owners of a La Manga Club apartment.
If what moves you about Holy Week is the exaltation of faith, among the more serious processions are the "Rescate" and the "Salud" of Holy Tuesday, or the "Retorno del Jueves" (Thursday Return) or the "Cristo Yacente" of Holy Saturday, whose culminating moment is when the image of Christ passes under the Arch of Santo Domingo. The most important procession is perhaps that of Holy Friday, in which the body of work of Francisco Salzillo is brought out into the street. It commences at seven in the morning with the first ray of light, the so-called "kiss" that must fall upon the face of the icon of Mary "la Dolorosa" or on the standard of the brotherhood that leads the procession, the Cofradia de Nuestro Padre Jesus Nazareo.
Another major attraction in this edition of Holy Week in Murcia will be the procession led by women, "Maria, Consuelo de los Afligados". Incorporated for the first time this past year, Holy Tuesday of 2018, it is a performance of the Virgin consoling Mary Magdalene after seeing Jesus carrying the cross, an icon created by the sculptor Francisco Javier Lopez del Pino, considered one of the new geniuses of religious iconography in Spain.
Have you made up your mind to leave your La Manga Club property for a few hours to enjoy Murcia's Holy Week, recognized as a celebration of International Tourism Interest? Tell all your family and friends because it will surely be of interest to the devout and the gluttonous alike… Don't miss the participants with their seasonal treats and see how every wave of the processions is bathed in a different colour…