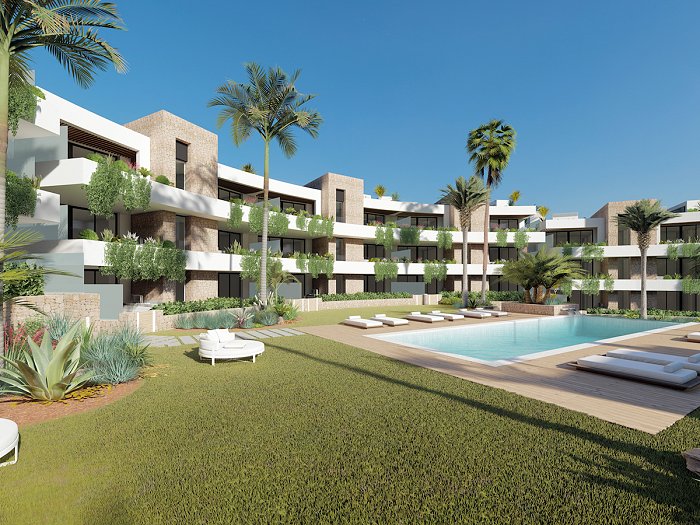 We are delighted to announce that this month we broke ground on the Las Orquídeas construction project. This is one of our most emblematic new apartment communities and we are ecstatic to see it begin to come to life.
The 42 apartments that make up the complex are located at the heart of the resort, just a few minutes' walk from The Racquets Club, the newly refurbished La Manga Club tennis centre and social club. The beautiful views are one of the main attractions of the complex, with sightlines to the Mar Menor and the rest of the resort. And to take maximum advantage of these sea views, each apartment has a spacious terrace, perfect for a dining table or lounge chairs to soak up the Mediterranean sun.
The level of quality in the materials and design set the Las Orquídeas construction apart from other apartment communities at La Manga Club. Each 2- or 3-bedroom unit features ceramic material and bathroom furniture from top brand Porcelanosa, samples of which you can see in our showroom near the entrance of the resort. Renowned architectural studio INNOV·ARQ was contracted for the design, which is sleek, modern, and luminous while still warm and inviting.
The apartments come unfurnished, so owners can make the interiors their own in the style of their choosing. Our show apartment, however, currently under construction, will have interiors by Rita Rosés, who has over 30 years of experience in various real estate sectors. Flexibility is one of the key features of these apartments; owners may choose to live in them year-round, drop into La Manga Club whenever they need a weekend escape, or even let the apartment to visitors when not in use.
Property owners will enjoy the generous amount of storage space allotted to each unit, perfect for permanent residents or for those who want to keep their personal items in a separate space when they let the apartment to guests. And residents and guests alike will love the community pool and landscaped gardens on the ground floor, where there is plenty of space to socialize or relax with a book. The complex has its own dedicated parking area.
You can look forward to photographs of the ongoing Las Orquídeas construction in our monthly newsletter, so sign up if you want to see this beautiful community appear before your eyes. We could not be more excited to welcome our new owners when construction is completed, nor to see the final results of this project that is so dear to our hearts.