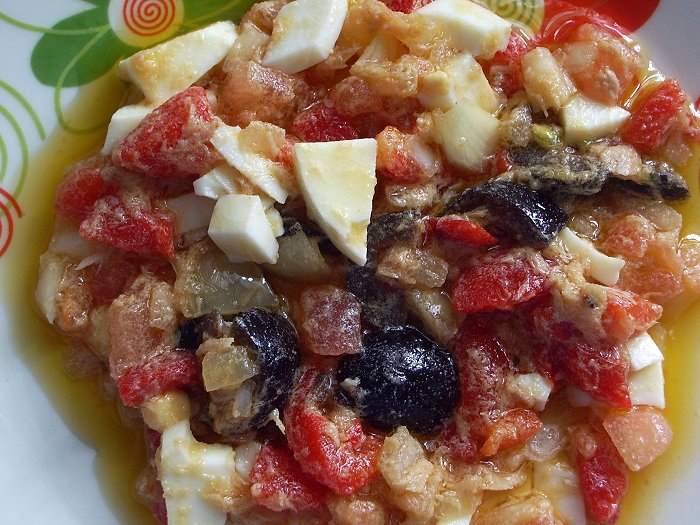 If you're fortunate enough to own an apartment at La Manga Club, you'll have already invested in Murcia's charms: the climate, the exceptional landscapes, and its culinary delights. Today we bring you a typical dish that is also common in the neighbouring region of Castilla-La Mancha. Mojete or moje is a cold salad, perfect for kicking off your summer and bringing together the freshest Murcian products. A combination of the best from the sea and the land, this is an appetizer that's as delicious as it is easy to prepare, and also known as ensalada murciana ("Murcian salad") or pelechana.
We must travel back to the XIX century to find the first households that prepared this recipe using near-to-hand ingredients chock-full of vitamins and minerals. Mojete is typically prepared hours before it is to be consumed so that the flavours can come together. Key to this dish is a touch of good olive oil, which infuses the ingredients with an unmistakable flavour and aroma.
Both in Castilla-La Mancha and Murcia, tomato is one of the star local products, in demand the world over and exported to thousands of locations beyond Spain. Tomato is the main ingredient of moje or mojete as well, dominating the tonalities of the recipe and the flavours that will delight the guests who visit you in your apartment at La Manga Club. But it's by no means the only ingredient, so take note and ensure that your Murcian salad isn't missing a thing!
Mojete ingredients to serve 4 people
1 kilo of tomatoes
1 soft onion
2 hard-boiled eggs
2 cans of tuna
150 grams of black olives
Olive oil and salt
Preparation of the mojete
The key to an appetizing, juicy moje is cutting all the ingredients properly, starting with the tomato. Then peel and cut the onion finely and mix it with not only the tomato but also the canned tuna.
Once you've boiled the two eggs, dice them as well and distribute them throughout the salad. Lastly, add the black olives and season generously with olive oil and salt to taste.
If you want the best mojete, you must prepare it ahead of time and leave the ingredients to marry, fusing their flavours and aromas and absorbing the olive oil. Don't forget the final touch: a bit of parsley and a good white wine to elevate your evening at your apartment at La Manga Club. Your guests will thank you!