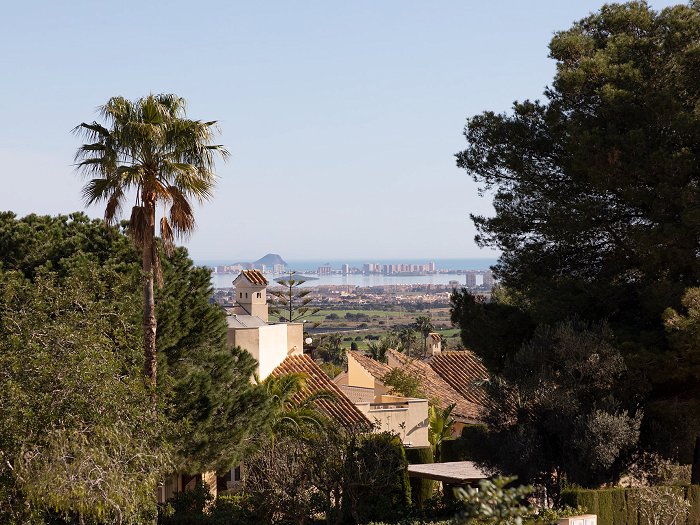 If you're searching for villas in Spain but aren't convinced an isolated property is the best choice, we present El Boulevard. Located in the center of La Manga Club, this just-released residential community enjoys the tranquility of a wooded environment and includes 16 commercial properties, plus a set of five apartments and two independent villas. You'll enjoy easy access to all the services you expect from a sports resort and the comforts of a contemporary development that meets the highest standards of construction and aesthetics. The community's white and natural stone palette meld perfectly into the landscape and provide the ideal setting from which to watch the sun set or contemplate the beautiful Calblanque Natural Park. But that's not all. Below, we explain more of the benefits of choosing a home in El Boulevard.
Remote work and sport
El Boulevard's villas in Spain have an open-plan design ideal for remote work at home. At the same time, your tranquil private environment is just a few minutes from excellent sport facilities. You won't ever have to get into a car to get to the golf course or tennis court. La Manga Club has three 18-hole golf courses, a 9-hole Pitch & Putt designed by Severiano Ballesteros, and a Golf Academy with professional coaches available year-round. For those who love tennis, El Boulevard is located right next to La Manga Club's newly renovated tennis and paddle centre, The Racquets Club. Dozens of beautiful courts, a new gym and a complete academy training program will keep your racket in your hand all summer.
Two independent villas
El Boulevard's two independent villas are single-storey properties with porches where you can rest outdoors, eat with friends or enjoy a good chat with the family. Each of these villas in Spain also has ample interior space, three bedrooms (one en-suite), and a large outdoor garden. The villas share with the apartments a community pool, a landscaped green area, and access to parking spaces.
Holiday rental apartments
Because El Boulevard's location makes it easy to enjoy the sport, dining, and commercial services La Manga Club has to offer, it's the perfect location for tourism apartments. The five apartments in the community have two or three bedrooms, terraces, and their owners can let them when they are not in use. If you seek a good real estate investment with some holidays for yourself thrown in there, El Boulevard is perfect. As a consolidated destination with springtime temperatures year-round and great golf courses, the flow of guests at the resort is constant.
Commercial property
With a population of approximately 2,300 residents, La Manga Club's community is committed to the resort lifestyle. For many, this is where they spend the majority of their holidays. The grounds are both secure and gated, meaning that many don't need to leave the resort because everything can be found within the complex.
The Boulevard adds to this offer by including 16 commercial properties with a dedicated parking area. The modern complex, distributed over two floors, has outdoor terraces and promenades. On the first floor, there are 14 properties of between 69 and 80 m2 and on the second, two larger properties of 156 m2 each. If you are looking for an investment that is not residential, this is a rare opportunity.
The search for villas in Spain gets easier when you focus on La Manga Club. With multiple options afforded by the real estate portfolio of La Manga Club Properties, you'll soon find your foothold in one of the best golf resorts in Spain.