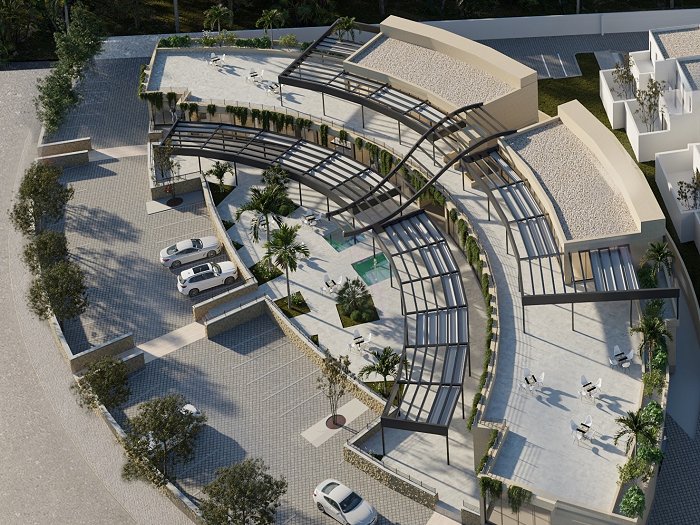 This year has been an exciting one for La Manga Club Properties, with the launch of our new El Boulevard commercial properties. We have released 16 of these spaces thus far, and this month of November has seen two sales of the smaller retail spaces as investors jump at the chance to own a property in a prime location within this established destination.
La Manga Club is home to more than 2,300 residents from all over the globe, and while the resort grounds are ample, with dozens of residential communities and plenty of space for the three 18-hole golf courses, the highly social residents are active users of all the facilities at the center of the complex. Restaurants, convenience stores, petrol stations and shops sit side by side the renovated tennis center, which has quickly become La Manga Club's new social hub.
The Racquets Club, which continues to house the 28 tennis courts and 7 paddle courts the complex has always offered, now also features a full-service fitness room with professional physiotherapy services and a café and restaurant that sees hundreds of visitors a day. With the courts all resurfaced and the lights and grounds improved, the €2 million invested in the renovation seems to already be paying dividends in terms of drastically increased visitor numbers.
Located immediately next door to The Racquets Club is the future home of El Boulevard, whose currently released commercial properties total more than 1,300 sqm. of interior space and approximately 300 sqm. of outdoor terrace areas. The lower floor comprises the 14 smaller commercial spaces, with surface areas of between 70 and 80 sqm., and the top floor has two 156 sqm. spaces, ideal for dining establishments, that come with the aforementioned terraces. The complex has dedicated parking areas for visitors.
The Racquets Club is only the first of many improvements residents and visitors are already seeing as La Manga Club embarks on an ambitious journey to reposition itself as a luxury destination with the most complete offer of its kind in Spain. The golf course facilities have been renewed as well, with a new entrance, new tee markers, signage, and bag supports already installed, and new buggy paths and landscaping projects around the corner. The Príncipe Felipe hotel is undergoing a total transformation, and will reopen in May of 2023 with brand new interiors and dining and leisure offers. Overall, La Manga Club resort will be moving into a new era in 2023, with important investments being made in every area. The El Boulevard commercial properties are uniquely positioned to benefit from what will undoubtedly be an upsurge in visitors to the complex from the nearly 300,000 visitors that the coastal area of Murcia receives every year.