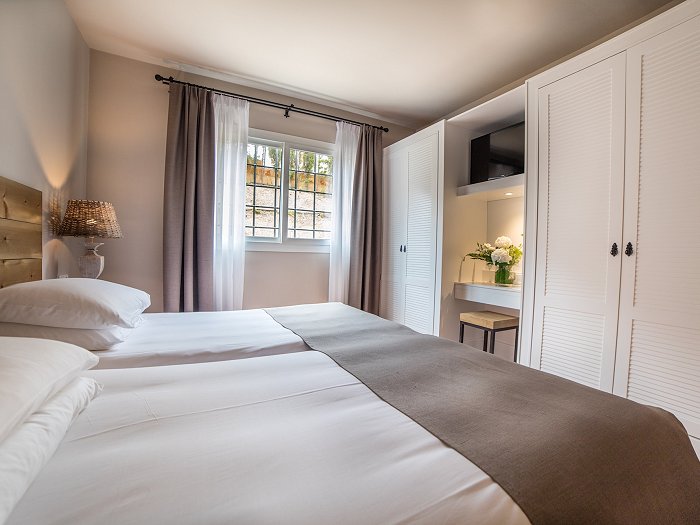 If you love the good life and the Mediterranean climate, you may have considered looking for a holiday home in Murcia. In this charming region of eastern Spain, you'll find a unique residential community where you can set up your second home or ensure yourself and your family exceptional holidays every year. If you are looking for a quiet place to get away from the cold and stress of the big cities in the north to enjoy one of the best golf resorts in Europe, La Manga Club will prove a profitable and safe investment where wonderful annual holidays are assured. When you buy a property in La Manga Club you can not only be sure of a residence to travel to in Spain whenever you want, but in some of our real estate options, returns are guaranteed through a buy-to-let formula. You can securely rent out your property when it suits you, with all the necessary protections in place.
Luxury holidays in Spain
Imagine having a Mediterranean property to take refuge in with a pleasant climate all year round, and the comfort of five-star services at your disposal. La Manga Club is a golf resort in Spain that offers you dream holidays in an attractive region of the country. Escape from the cold winter and settle into your own residence whenever you want to unwind, reconnect with nature or simply discover the surroundings of this beautiful corner of the Iberian Peninsula. Flanked by the Mediterranean Sea and the Mar Menor, the Costa Cálida is an idyllic place for long walks on the beach, diving or hiking. There are so many options that you will surely find something new to discover on each trip: cave art, natural parks, beaches, architecture, vineyards… Your house in Murcia will be the starting point for an unforgettable holiday!
Play golf as often as you want
An added advantage of buying a villa or tourist apartment at La Manga Club is that you can devote yourself to your favourite sport whenever you like. With a history of almost 50 years, our resort has three professional golf courses of great regard. No matter what time of year you travel, you will always find the best conditions to perfect your technique or begin learning this gratifying sport. Keep in mind too, that although golf is a hallmark of the resort, it is not the only sport you can play. The tennis courts, football pitches, rugby and cricket fields also meet professional requirements and are at your disposal to make use of with friends or family.
Authentic Mediterranean food
Did you know that Murcia is famed as being the garden of Europe? Most of Spain's export fruit and vegetables come from here, so when you visit your luxury flat in La Manga Club you can feast on the seasonal harvests. Prepare your own Mediterranean recipes in your kitchen, accompanied by regional wines from Jumilla, Bullas or Yecla. However, if you don't feel like cooking, you won't need to leave the resort to find a good place to eat. La Manga Club has a wide range of culinary options that combine the best of local ingredients with careful preparation. Our restaurants and bars are the perfect spots to enjoy gastronomic delights.
Purchase a luxury villa in Murcia
If you have already convinced yourself that this Mediterranean corner is the ideal place to spend long periods of time or your holidays, you will be pleased to know that buying a property in this gated sport resort is also safe, thanks to its controlled access. Staff are available 24 hours a day to attend to any need and the administrative management system guarantees excellent maintenance of the resort's infrastructure and facilities. With more than 45 years of history, La Manga Club is one of the best residential and golf resorts in Spain, and currently is home to a consolidated community of more than 2,300 residents who have made this paradise their refuge in Europe.
Depending on the number of bedrooms required, consider a residence in Las Orquídeas, Las Lomas or Las Lomas Selection. Together with careful design and modern decoration, these properties are ideal for private use or for holiday rentals. If you prefer a villa or chalet with a private swimming pool, Las Acacias offers large plots for new builds. It's a real estate investment that guarantees you a comfortable holiday with all the advantages of a resort.
Houses and apartments for tourism rental in Murcia
When you buy a tourism villa or apartment at La Manga Club, you'll be making a safe return on your investment as well, because during the periods when you are not living there, it can be used as a tourism rental. Unlike other residential resorts, many of our apartments have been designed expressly for this purpose. All the required permits are in place, a fundamental requirement considering the strict regulation of the sector.
As you can see, the La Manga Club offers you all the facilities and options you need to make a sound purchase of a holiday villa or apartment in Murcia. Yours will be a property to escape to whenever you want a Mediterranean break, and an earner of income when not in use.