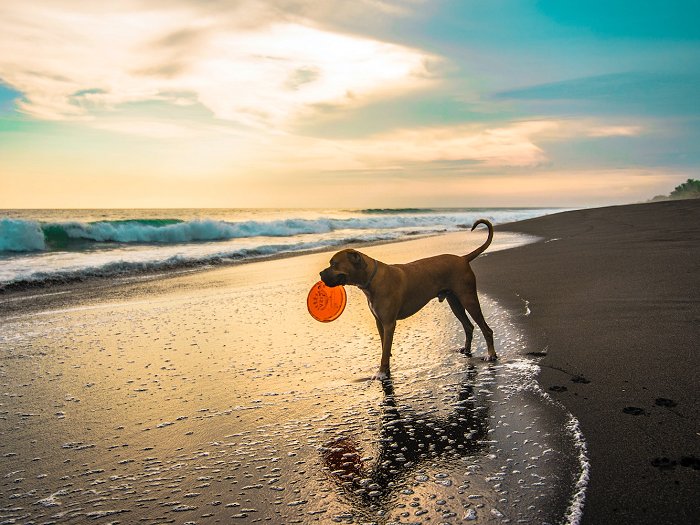 If you have a furry friend, you know it can be difficult to find dog-friendly beaches. But in Murcia, you're in luck. This part of eastern Spain not only has an excellent climate, the beautiful Costa Cálida, and rich culture, but also several places where you can enjoy the sea and sand with your pet. Today we'll take a tour of the beaches in Murcia that allow dogs so you can spend an unforgettable day with that four-legged creature you adore.
El Mojón
This beach is located in San Pedro del Pinatar. It has an area set up for dogs where they can run around without restrictions and swim in the Mediterranean. In addition to its crystal-clear waters, perfect for taking a dip or sailing, this corner of the sea has plenty of services and facilities to make sure you and your family will enjoy a great day out with your pets.
Los Antonios
Another place worth visiting if you come to Murcia with your dog is the beach of Los Antonios in Águilas. It is a small cove with golden sand and turquoise waters framed by imposing cliffs. This hidden Murcia treasure is slightly remote, making it less crowded than other beaches and perfect for enjoying a day of sun and sea without any stress or crowds.
Las Moreras
If you still don't know what to visit in Murcia, our next recommendation is Las Moreras beach in Cartagena. This beach has an exclusive swimming area for dogs and their owners. With a length of more than 1.4 kilometers, this beach is nestled next to a beautiful bay and surrounded by mountains and native vegetation; it's a great place for taking Cartagena hiking routes, too.
Villananitos Beach
Not all dog-friendly beaches are small and isolated. If you prefer a larger one with more people, Villananitos Beach in San Javier is the best option. Lovely and lively, get ready to spend your whole day here. The animal access is usually towards the right side of this area next to the Mar Menor, just after the old La Ribera resort, in itself a place of history and beauty.
Isla Plana
Last, but of course not least, Isla Plana beach is located in Cartagena and allows dogs on the sand year-round, which is ideal for those who don't want to worry about which month it is. Besides boasting beautiful golden sand and transparent waters, Isla Plana offers everything you need to spend a great day with your pet.
In short, Murcia tourism is a good fit for people with dogs, with a coastline that offer great destinations in terms of infrastructure, quality and services. Which of these dog-friendly beaches will you be trying first?