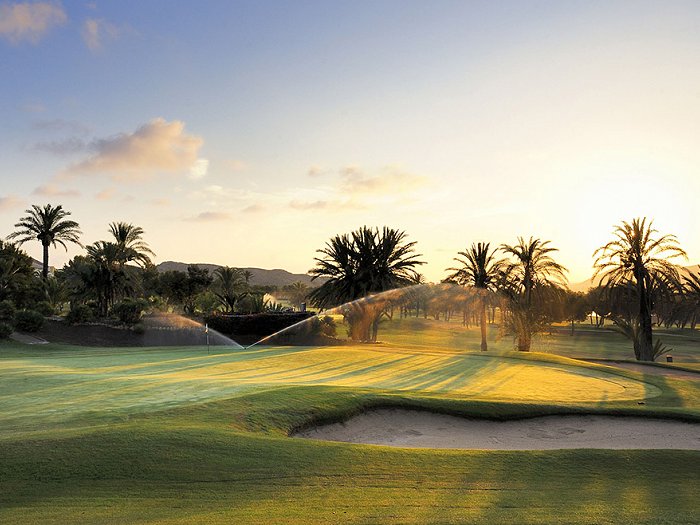 Highly valued for their extraordinary location, the La Manga Club golf courses enjoy international prestige thanks to their design. Fans of the sport agree that the courses are ideal for any level of play. From beginners to golf professionals, everyone will find an ideal space to practice again and again, setting new challenges and achieving personal goals. The infrastructure and quality of these sports facilities have even resulted in La Manga Club being honored with the title "Real Golf La Manga Club", issued by His Majesty the King of Spain.
As the owner of a home in our golf resort, you'll enjoy more than 6 square kilometers of land dedicated to sport, and thanks to Murcia's incredible climate, these can be used throughout the year. The layout and architectural design of the residential complexes facilitate access from any point, so that with only a short walk, you can be on the greens and enjoying them to the fullest. The facilities comprise three professionally designed golf courses, each with 18 holes, suitable for both professionals and amateurs.
All three courses are listed among the Top 40 in Spain, but each course has particular characteristics and a unique ambiance; you'll have to try them all to find exactly what you're looking for!
Designed by Robert Dean Putman, the North Course presents different challenges. Somewhat undulating and slightly shorter than the other courses, the relatively small terrain runs between palm trees, lakes and ravines. With somewhat narrower fairways, so beginners won't be overwhelmed by the width that characterizes the other courses, it also challenges more experienced players because they can test their dexterity and technique to deliver less powerful shots that require greater precision.
The South Course, which was also originally designed by Putman, was later redesigned by Arnold Palmer. Its exceptional route is ideal for the most demanding players. It is bigger than the North, with a total 6,500 meters in length, and its wide fairways and long hole distances combine with shorter ones to attract all kinds of players.
Finally, the West Course, designed by Dave Thomas, is a great challenge for any golfer thanks to its abundant changes in grade and elevation. Over the first 9 holes, the course requires great precision due to the large number of ravines. But on the back 9, it demands great mastery of technique because of their location in more mountainous terrain. All in all, the course's design is spectacular, and it's placed it in the Top 100 in Europe.
But it's not only the courses that make La Manga Club the perfect golfer's residence. Here, any player, whatever his or her level of experience, can set or improve his/her handicap by training in our Golf Academy, which offers numerous options in terms of types of classes, both individual and group. The facility features two state-of-the-art teaching rooms, Trackman and Bull 3D analysis systems, as well as four separate group rooms and a driving range. And don't forget La Manga Club's Pitch & Putt, designed by great Spanish golfer Severiano Ballesteros, with 18 holes accessible for anyone at any level of play!
If you are a golf fan or a demanding player, count on the La Manga Club golf courses to fulfil all your golf dreams. And with a residence here and year-round springtime temperatures, you'll be in heaven in any season. Open your door and hit the course of your preference!