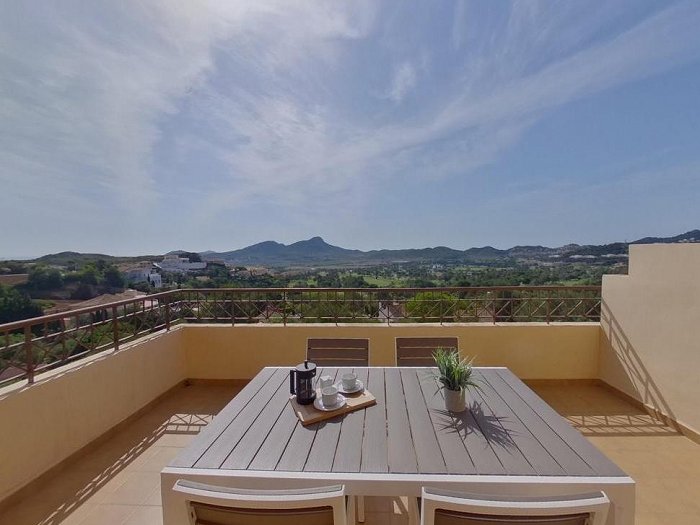 With the arrival of summer, we have a brand-new offer of La Manga Club apartments: fourteen 2- and 3-bedroom units in the Buenavista neighborhood. If you've been searching for a freehold property with lovely views at a great price, and with enough space to accommodate multiple guests, look no further.
The Buenavista community is located in the northernmost part of the resort, which rises up into the hills. Thanks to its elevation, many of the apartments in this community boast lovely views over the resort and the sea, and the large outdoor terraces offer the perfect place from which to enjoy them.
All the apartments are duplexes and very spacious, with most of these 2-bedroom La Manga Club apartments having 163 m2 and the 3-bedrooms 195 m2. All have three bathrooms, some of which are en-suite. The terraces come with built-in barbecues, making it easy to enjoy a wonderful meal with family or friends at any time of the day, and there are small gardens or patios on the ground floor.
The interiors are light-filled and the living areas and kitchen are semi-open plan. They provide an enticing space to entertain in the summer or winter, as the living rooms are also equipped with a fireplace and an adjoining dining area. All the closets are ample and built-in.
The community pool is located at the center of the complex and has plenty of room to accommodate neighbors comfortably. As Buenavista is close to the center of the resort and easily accessible by road, basic services are never far away.
These La Manga Club apartments are very reasonably priced, with the smallest of the units, a 145 m2 2-bedroom, on the market for €225,000, and the largest, a 195 m2 3-bedroom, priced at €257,000. Visit our Property Pages to see the available homes, the Buenavista page to take a virtual tour of the units, and then contact the La Manga Club Properties office for more information!