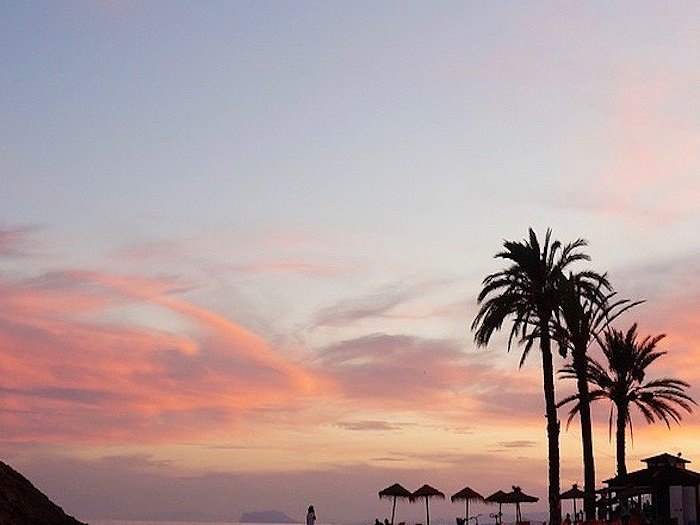 When you close your eyes and imagine paradise, we're guessing you see yourself on a wonderful beach. It's a true luxury that close to your villa or apartment at La Manga Club you can enjoy not only secluded coves, but also broad beaches with sand as golden as the water is clear. We've already told you in past blogs about the charms of Los Cocedores and Playa de Calblanque, but today here are some other places of outstanding beauty that offer a great day of sun and a refreshing dip as you're caressed by the Mediterranean breeze.
Playa Paraíso (Paradise Beach)
Since we're talking about paradise, it's only appropriate that our first beach would have the same name. And the best part is that it's only about 15 minutes from your villa or apartment at La Manga Club by car. More than a kilometre long, its location is ideal for refuge after a long day at our fantastic golf resort. Bathed by the idyllic Mar Menor, Playa Paraíso is next to the Salinas de Marchamalo and is very popular among regular swimmers as well as surfers and those looking to drop anchor.
Cala Cortina (Cortina Cove)
A bit further away, but still within Cartagena, is Cala Cortina, which offers great services and a boardwalk ideal for passing the time between swims. Being so close to the center of the city, you should plan to arrive early if you want to get a good spot, but what you'll find is a sandy beach isolated from the city noise where you can enjoy true relaxation.
Playa de Bolnuevo (Bolnuevo Beach)
If you prefer a semi-urban beach that will allow you to quickly hit a restaurant or shop in the stores at the foot of the beach, this stopover of a kilometre and a half of golden sand and resplendent sea in the municipality of Mazarrón will surprise you. Less than an hour from your property at La Manga Club, this enclave is also an obligatory stop on the local tourism train so you can get to know Mazarrón better.
La Azohía
Close to Bolnuevo is La Azohía, a group of impressive beaches that surround the town of the same name. This is a fishing village of 500 inhabitants that has gained fame not only for its wonderful seafood, but also for its heavenly beaches, ideal for diving. The Torre de Santa Elena and the Batería de Castillitos de Cabo Tiñoso add a historic touch to this singular destination.
Playa de La Carolina (La Carolina Beach)
You'll have to drive a bit further, about an hour and fifteen minutes, to arrive at this beach situated in the municipality of Águilas, also known as Los Ingleses and integrated into the area known as "Cuatro Calas" (Four Coves). But once you arrive you'll know the trip was well worth it: its half a kilometre boasts one of the dune systems so emblematic in the Region of Murcia, and which have earned them Protected Natural Landscape status. With fine sand and transparent water, it's protected from the south and west.
These five delights are all you need to enjoy these months, as soon as you arrive to your villa or apartment at La Manga Club. If you need more options so that you can try a different beach every day of the many days of sun that the region offers, you can check out our other posts about Portús, Cala Reona, and Punta del Sombrerico. Think about their distinct characters, find them on the map, and all that remains is to get yourself to the one that appeals the most to enjoy the best of the Murcian coast.