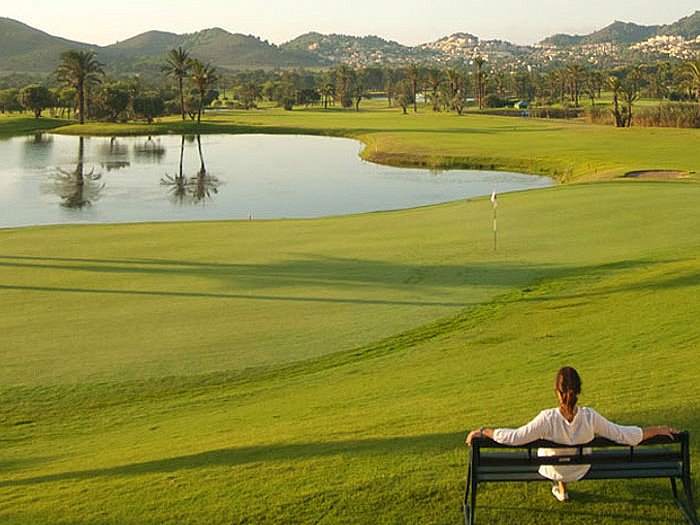 For many of the owners of our golf villas for sale at La Manga Club, summer is a time to rest, disconnect from their daily routines, and set out in search of adventure and places where they can enjoy the pleasures that they don't have close at hand the rest of the year. For golf aficionados, the ability to combine a family holiday with their favourite sport is also a priceless luxury.
Our apartments and first-class facilities attract so many people because they offer, and deliver, everything that a lover of the greens could possibly require. Tick the boxes yourself using this list of 5 things that golfers need in order to enjoy the summer.
Quality courses
The dream of any golfer is to have the best golf courses just next to his or her residence, and at La Manga Club, this is a reality. Three 18-hole golf courses, all different and apt for any level of play: the North Course, designed by Robert Dean Putman, the South course, designed originally by Putman and later redesigned by Arnold Palmer, and the West course, designed by Dave Thomas. And as if that weren't enough, we also have a Pitch & Putt designed by Severiano Ballesteros.
Another benefit for golfers is being able to enjoy a lunch or breakfast in our restaurants to replenish their strength after an intense game of golf: the 37 Spike & Sports Bar, situated in the Casa Club, and La Princesa, on the West Course.
These great courses are set in a privileged natural environment, surrounded by palm trees and unbeatable views, and all just two steps from your apartment or villa at La Manga Club.
Personalized training in a prestigious academy
The fabulous facilities of our golf resort include a great practice area and the new golf academy, the La Manga Club Golf Training Centre, which offers a unique training programme led by reputed instructor Thomas Johanson and his team.
There, the best professionals in the area will help you improve your swing or refine your approach. It's a luxury available to only a lucky few, but one that residents of our complex can enjoy whenever they like.
Specialized shops with the best equipment available on the market
Any golfer serious about his or her game has to have the best gear. Having a pro shop close at hand where you can get equipment and accoutrements that include the best brands is fundamental. In the clubhouse pro shop, you'll be able to choose between a varied selection of brands of golf clothes and equipment: TaylorMade golf clubs; Ashworth, Cutter & Buck, Callaway, Nike, Adidas and Under Armour clothing; Footjoy and Adidas Ecco shoes; an infinite selection of the best brands of golf balls; and the best rental services for all types of equipment for golfers.
In the 5-star Hotel Príncipe Felipe there is also another shop that offers Golfino-brand clothing, shoes and golf accessories (and two cases of jewelry that can be personalized for clients of La Manga Club).
Spa, wellness and sport medicine facilities of the highest calibre
One of the most important things for athletes, whether elite or amateur, is adequate recuperation after the efforts made and a personalized study of his or her physical state so as to prevent injuries and achieve maximum potential.
Recovering after a hard day of golf at La Manga Club means a trip to the Wellness Centre, with its more than 2000 incredible sqm of Jacuzzis, dynamic pools, cold water baths, steam baths, a sauna, and all manner of body, facial and massage treatments.
The fitness centre is equipped with the latest equipment for cardio and toning workouts, and it has swimming pools and personal trainers that can evaluate you and design routines tailored to each individual athlete.
Lastly, the very special High Performance Centre at La Manga Club offers access to a professional sport medicine centre that offers observation and rehabilitation or prevention of injury under the care of the best professionals.
A great gastronomy offer and incredible beaches for the whole family
Last but certainly not least, a fundamental concern for golfers looking to enjoy their stay at the best golf resorts in the world is that their families can enjoy their stay too. At La Manga Club, this goes without saying.
The coast of La Manga del Mar Menor offers spectacularly beautiful spots and beaches that rival the best in the world. This is a paradise within reach of the whole family if you decide that, despite the incredible pools and La Manga Club's own beach, you'd like to spend a day outside the resort.
Add to that the wide variety of gastronomic options available in Spain in general and Murcia in particular, at the highest levels of refined cuisine, and you have a destination fit for any traveler.
So whether you're a fervent amateur or an expert player, if you want to enjoy your days of leisure in the company of your family and do so in the perfect setting for the best sport in the world, take a look at our properties for sale at La Manga Club: you'll find everything a golfer seeks in the summer…and all year round. Tempting?