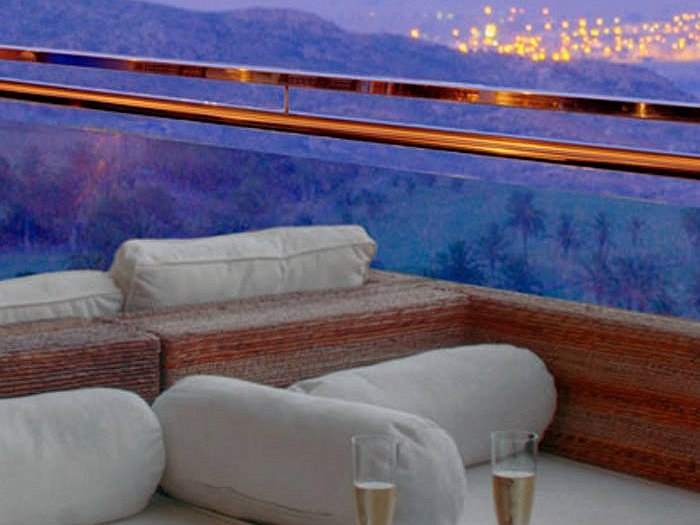 If you're fortunate enough to be a resident with a property at La Manga Club, you'll know that spending time at our marvellous golf resort in Spain means you have an infinite number of leisure options at your fingertips. That's why today we've decided to prepare a little selection for you so you don't miss out on any activities among our diverse sport and leisure offer during your next summertime stay. Have you ever had so many different entertainment and relaxation options so close?
Enjoy a drink on a lovely terrace
As you can attest from your last visit to your villa or apartment at La Manga Club, we always enjoy wonderful temperatures, thanks to our protected geographic location. But now that it's summer, having a drink or enjoying an exquisite little tapa outside on one of these warm nights is almost a requirement. Our resort has a number of restaurant terraces where you can enjoy seafood (La Cala), Italian (Luigi's), Spanish (La Bodega) or Asian (Asia), among others. You could pick any one of them, but today we recommend the delights of the Hindu-Lebanese Dharma, with an ample outdoor area with views over the Mar Menor. Located in the area of Las Lomas Village, its menu will transport you to exotic places with its pungent aromas, and you can begin your evening with an iced tea on the house.
Open from Thursday to Sunday. Beginning the 5th of July it's also open Wednesdays, and from the 1st to the 20th of August it'll be open every day. The hours are 19h-23h.
Relax completely in the spa
Do you need to rest and pamper yourself a bit after a long season of work? Or do you just want to give your body the attention it deserves and tone up? Either way, enjoying the wonders of a spa is always a good idea, especially if it's a circuit like the one set up at La Manga Club. You'll find three Jacuzzis of different temperatures with underwater jets designed to massage your body and spine with a range of intensities, as well as steambaths and saunas. Warm water, a change of scene, and the sensation of being in a little paradise far from your daily routine… What are you waiting for?
Call the spa at +34 968 81 01 34 ext. 6100, or send an email to spa@lamangaclub.com
Enjoy the magic of La Cala
Back in the old days, the locals knew that at the end of the Calblanque coast, in the Murcian Levante, just before you reached the Portman beach, you could find La Cala del Barco, a secret corner with special charms, few beachgoers, crystal-clear waters, and sand to lay out on under the shade of the native fig trees. At our resort, the access to this paradise is just at our fingertips and it is, without a doubt, one of the best pleasures of having a property at La Manga Club. Just to the side of the beach is a restaurant bearing the same name, whose kitchen is dedicated to regional products. It's Mediterranean fare with fish and seafood playing protagonist, but it doesn't forget about great local dishes like the delicious caldero. Being there and enjoying the tranquillity of the sea while you share great wine in good company is a romantic pleasure rare in the world these days, and our seasonal events like White Nights at La Cala try to celebrate it to the utmost.
You can make a reservation at the restaurant by calling +34 968 33 12 60, or sending a message to info@lamangaclub.com.
Start your day with a round of golf
There's nothing better for getting your body in motion and recharging your batteries at the beginning of the day than doing a bit of sport when you wake up. And if this sport is golf, gentle and great for players of any age, physical exercise can turn into an act of communion with nature. La Manga Club is located in a privileged setting with three 18-hole golf courses designed by Robert Dean Putman, Arnold Palmer, and Dave Thomas. Our complex, one of the most prestigious in the world, has received such awards as the Best Hotel/Golf Resort in Spain from Today's Golfer for five years in a row, and has hosted important tournaments including the Spanish Golf Open and PGA championships. And if you're a little rusty, don't worry. We have a putting green and a great golf academy: La Manga Club Golf Training Centre, directed by reputed instructor Arnold Johansson and his team. So no excuses for missing out on an entertaining, practical and healthy morning!
Contact telephone number: +34 968 175 000 ext. 1360
Email: golf@lamangaclub.com
Tennis instruction, the fun way
And speaking of academies, do you have a son or daughter who loves tennis and wants to learn how to play or perfect his or her game? Don't hesitate to sign them up for one of the many courses available at our prestigious La Manga Club Tennis Centre. Our 28 courts have seen play at top levels, including rounds of the Davis Cup, the FED Cup, and various ATP tournaments, and our tennis instruction centre can offer support for any age or level. Besides private classes and the Adult Intensive programme (for the not-so-young) and the Pro Intensive programme (for those who already play at a high level), in the Junior Academy your little ones will be exposed to the concepts and techniques necessary to develop all their tennis-playing potential. And all this with the confidence you can have in a centre that is an official sponsor of the European Tennis Federation.
Telephone: +34 968 33 12 34 ext. 1666
Email: tennis@lamangaclub.com