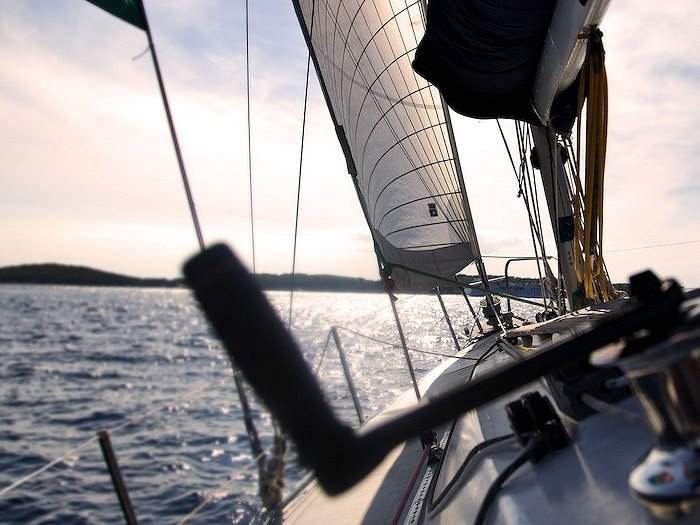 While staying at your property at La Manga Club, you've surely had occasion to imagine yourself at the helm of a grand sailing boat cruising along the largest saltwater lagoon in Spain: the Mar Menor. The intoxicating discovery of new places not so far from La Manga Club and others further out at sea, unknown but ready to be discovered, await you. Whether this is a dream yet to be fulfilled, or you are already an experienced mariner, keep reading to find out how you can enjoy the best sailboat rides in La Manga del Mar Menor, beyond your own horizon.
Overnights on a yacht
If the lure of a film-worthy sailboat calls you but navigating one seems out of reach, we recommend you dive into the Internet and book a sailing trip from the array of boat-plus-accommodation options on the Mar Menor. If you love unique, irreplaceable experiences, this could be an excellent surprise for friends and family visiting your property at La Manga Club. These boats usually offer fully equipped cabins and luxury facilities that may even include services like a gymnasium. If after being rocked to sleep by the sea you'd like a walk on terra firma, they can almost always prepare an excursion in the area. Discover magical corners of the Mar Menor such as the islands of Grosa and Farallón, or go even further afield if you like.
Sea routes
As you would expect, in La Manga del Mar Menor there are numerous companies specialized in providing various types of routes on impressive sailing ships, whether for day or weekend trips or even longer. Designed for private parties, business meetings or romantic getaways, these sailboat excursions are helmed by highly qualified skippers and often include stops at heavenly beaches for diving, snorkelling or pleasant and refreshing swims. The choices are abundant, and the most popular destinations range from incomparable Mediterranean enclaves such as Cabo de Palos or Cala Tunis to focusing on the Mar Menor and its islands of Baron, Perdiguera, Ciervo, Rondella or Sujeto. Further out, leaving the Murcia region entirely, you also have the islands of Ibiza and Formentera, in the Balearic Islands, or Cabo de Gata, in the Andalusian province of Almería.
Yacht Charter
If what you want is to have a boat at your full disposal so you can choose the course you sail, we recommend that you rent it directly for the time that you require. You can hire an experienced skipper or sail the yacht yourself if you have the required license, and many companies can offer luxuriously appointed crafts. With a capacity for up to 12 people, these spacious vessels can boast several cabins and bathrooms as well as a kitchen and living room with a stereo setup, a solarium, and even a barbecue. Not to be forgotten are the essential extras available such as lounge cushions and snorkelling equipment, and everything else you'll need when you anchor the sailboat. If the aforementioned destinations fail to convince you, you could think about navigating to the Balearic Islands of Palma and Menorca, or try Benidorm, Torrevieja or Santa Pola, in Alicante.
Nautical school
If this post has set your imagination flying out to sea but you don't yet have a license even though you like to take the helm, there are, within easy reach of your villa or apartment at La Manga Club, academies where you can train and learn all you need to. Instructors with multiple years of experience navigating the high seas will teach you everything you need to know about manning a sailboat and the essential preparations for venturing out solo. Clear, calm waters like those of the Mar Menor may seem easy to navigate, but the professionals will train you for all types of situations and in all the techniques that will help you successfully complete any journey. Once you have a good command of them, nothing can stop you from renting or buying a boat of your own.
As you've seen, there are plenty of opportunities to enjoy sailing experiences in La Manga del Mar Menor. Whether it's your first time or you are yearning to repeat a great trip, there's no doubt that living in our golf resort, in our exclusive properties at La Manga Club, offers yet another incentive to share with your friends.