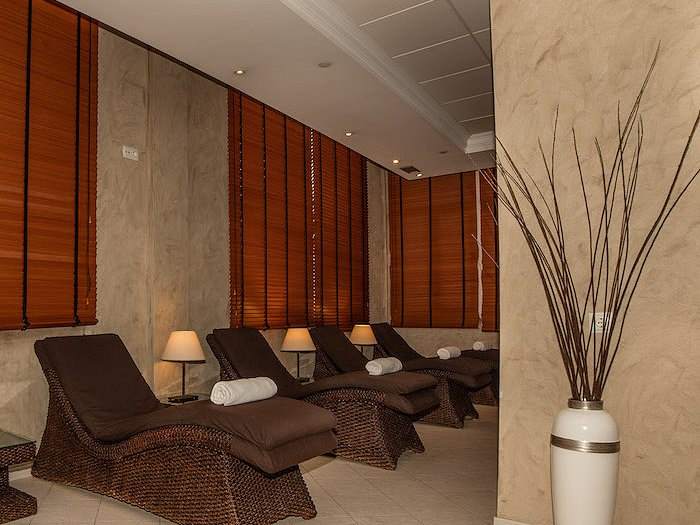 You already know that the area surrounding your property at La Manga Club boasts an extremely interesting gastronomic, cultural, and leisure offer. The delights of the beaches of La Manga del Mar Menor, the acclaim of the best flamenco festival in the world (Cante de las Minas), a walk through Modernist Cartagena or a visit to the fabulous Roman Theatre are wonderful options for unforgettable visits. But you also know that these options pale in comparison to the enormous variety of diversion and relaxation options available on the La Manga Club grounds.
In fact, there are many reasons to never leave the resort. At La Manga Club, you have restaurants that reflect the rich gastronomy of the world (Spanish, Italian, Asian, American, Indian, Lebanese, fusion cuisine, and more), three golf courses that have received numerous prizes and that host professional tournaments, 28 tennis courts that have hosted competitions like the Davis Cup…and a long list of additional marvels to discover and enjoy.
But one of the jewels in our crown is indubitably our Wellness Centre complex, named Spain's Best Resort Spa 2017 this past December 10th in Vietnam at the World Spa Awards. Our competition was fierce and included four other national resorts with spas: The Bahía del Duque Spa in the Gran Hotel Bahía del Duque Resort & Spa; the Arabella Spa in the St Regis Mardavall Mallorca Resort; the U-Spa, in the Royal Hideaway at Sancti Petri; and the Six Senses Spa, in Puente Romano Beach Resort & Spa.
Our Wellness Centre is a complex whose aim is to be an experience for your senses and a unique sensory experience for those who own a property at La Manga Club. We offer not only total tranquillity and a haven from the daily stresses of life, but also a path towards the physical and psychological wellbeing that comes with a toned body that has achieved the perfect balance between vigour and serenity.
To that end, the more than 2000 sqm Wellness Centre is divided into three zones: the spa, offering every resource you could imagine for placidly suspending time and the accelerated rhythm of your days, including two Thai treatment rooms and a Nails Bar, a plunge pool, Jacuzzis, and a relaxation area. The fitness centre, sporting the latest technology, personal trainers and a large swimming pool where you can shape a body to be proud of. And the more than 400 sqm High Performance Centre, where professional athletes can release all their accumulated adrenaline and anxiety and achieve an optimal physical state.
What's more, if you're after ultimate face and body beauty, we have a specialized department that offers non-invasive aesthetic treatments, like 8 Point Lift, hyaluronic acid and Botox, that will leave you feeling good inside and out. Your body and your skin will thank you for it.
If you don't already have a real estate property at La Manga Club, take this opportunity to learn about how you can be spending more time enjoying our wonderful facilities. Whether it's an investment in a holiday apartment in Las Lomas Village (adjacent to the Wellness Centre) or a luxury villa in our Las Acacias community, ours is a unique place to achieve peace of body and mind.