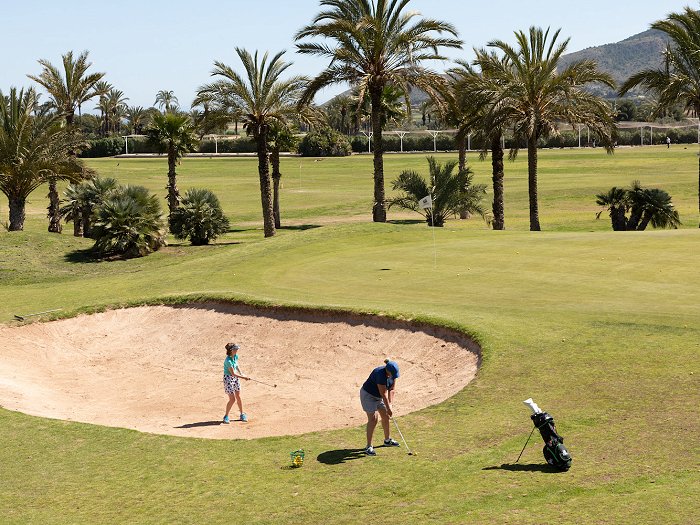 You've practiced for years, your game is honed, and you're considering making the leap to professional golf. But if there are still doubts that haunt you, it's normal. Numerous factors have to be taken into account if you really plan to make a major structural change in your life like this one.
It's not just about the level of your game, your strokes or your scores; there are a number of other things to consider when you're pondering this decision. Coming from a place of experience at La Manga Club golf, and having worked with professionals and amateurs alike, we'd like to offer a few thoughts for your consideration.
How to know if your time has come
As we said, not everything is based on your playing level and experience. Professional golf requires a combination of skill, dedication and considerable resources, as well as high levels of consistency and persistence. If you can maintain a good level of play over several consecutive tournaments, it could be a sign that you're ready to make a move.
The same goes for your skills and level of play. How do you do against professional players? Have you been successful in tournaments at the amateur level? If you are winning competitions with good results, perhaps your time has come.
And, to conclude this little analysis of key factors and indicators, you must consider the economic issue. Forget the price of golf clubs or professional coaching; your real expenses will revolve around travel, accommodation, and the other incidental costs that you'll have to include in your budget.
If you've made up your mind…
If you're in a good place with your game, you meet the requirements, and you've decided that the time has come, congratulations! This is an important, exciting and courageous decision. Here are a few recommendations we hope you'll find useful.
Prepare yourself physically and mentally. Professional golf requires physical and mental preparation in spades. You'll have to work on your strength, flexibility and endurance to be able to play in any conditions. In addition, you'll need the mental preparation to face the pressures of competition at the professional level while maintaining a healthy work-life balance and training regimen.
Get professional coaching. Seek the advice of experienced golf professionals to help you develop your skills. These can include coaches, professional players and even sports psychologists. They will help you improve your game and prepare you for the competition you'll face. Real Golf La Manga Club is an excellent place to find them, and our Golf Academy has professionals who can guide you in this search.
Participate in qualifying tournaments. Most professional tournaments have qualifying tournaments that allow you to earn a spot in the main event. Participating in them is a good way to gain experience and test your skills in an environment that approximates what you'll face in professional golf.
Network. It's important to network with other players and golf professionals. Attend events, interact through social media and make contacts in the golf industry. This can help you later with sponsors, and with getting playing opportunities at tournaments, and knowing the key dates. Remember that one of the benefits of golf is socializing. Enjoy it!
Be smart about sponsors. Look for brands that can support you financially and provide you with the necessary resources to travel and participate in professional events. Make sure you have a solid marketing plan and strategy to attract them.
The jump to professional golf requires a lot of consistency and dedication, so a house on a golf course is an excellent opportunity to be close to the game you love while staying comfortable. And while you're enjoying the facilities of one of the best sports resorts in Europe, you can achieve your goals with the right preparation and mindset.