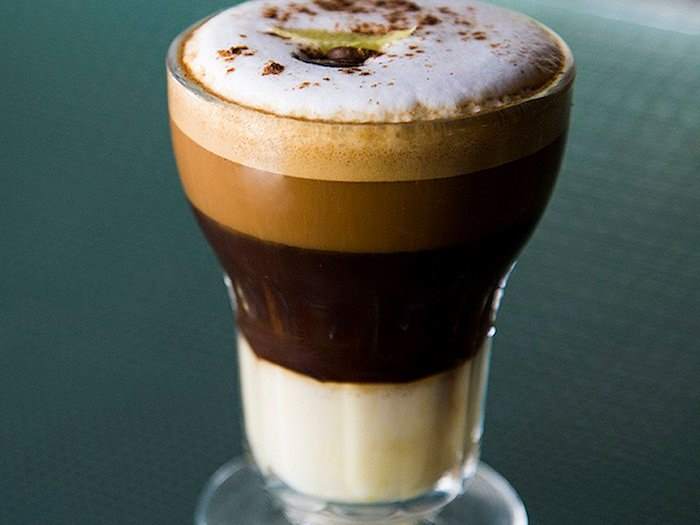 You don't need to leave the Murcian Region to note changes in habits and customs over time. Near your property at La Manga Club, in Campo de Cartagena, you can see that there are not only unique celebrations but also traditional dishes and drinks that will be a delight to enjoy from your residence in our golf resort. Discover the secrets of "Café asiático", the "Revuelto", and the "Reparo", cocktails derived from miner culture that will heat you up, and the ingredients of the "Mantellina", a refreshing and surprising cocktail.
Café asiático (Asian Coffee)
If you want to colour your celebrations at your property at La Manga Club with a cocktail created in Cartagena, try the Asian Coffee. Closely linked to the mining history of the area, it's very easy to prepare. Cut a long coffee with some condensed milk, add a pour of cognac and a bit of cinnamon and, if you like, complete the mixture with a few drops of Licor 43, a few coffee grounds, and a lemon rind. The unique nature of this beverage is not only in its ingredients but also in the glass in which it is served: manufactured with a glass thicker than usual, its shape is the Copa Campana Fuerte, made since the beginning of the XX century in an old glass factory in the Cartagena neighbourhood of Santa Lucía.
Láguena or Revuelto
This beverage also has its origins in the area of Campo de Cartagena and was a common drink among the miners, who used it to warm up on particularly cold work days. A mix of anise and sweet wine, in equal parts or with a slight emphasis on one or the other, the Revuelto is so simple to prepare that you'd be remiss not to try it at your La Manga Club residence.
Reparo
Two sole ingredients, cognac and sweet wine, are necessary for the preparation of the Reparo from your home in our golf resort. Like the Revuelto, this is a very sweet drink, but don't ever forget its potency; whenever you're enjoying alcoholic beverages, do so in moderation!
Mantellina
Milder, and in this case served chilled, is the Mantellina. The mix of anise, water, honey, and lemon is traditionally served cold and with a dessert. Delight your guests with this cocktail whose presence is practically ubiquitous in the romerías and festivals celebrated in the Murcian municipalities of Aledo and Totana.
Do you already know some of these Murcian cocktails? Want to try them from your property at La Manga Club? Enjoy and tell us about your experience!