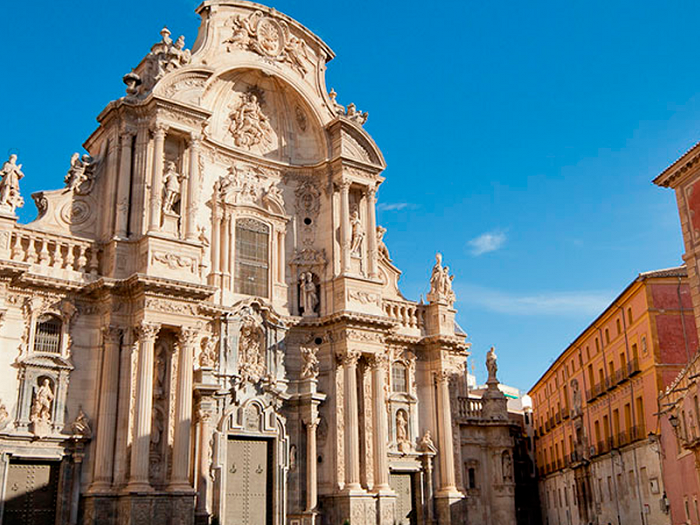 Anyone who owns an apartment at La Manga Club knows that the Region of Murcia boasts a marvellous climate characterized by mild temperatures and a brilliant sun that warms the waters of the Mediterranean. This, together with its rich diversity of natural areas, has made it an internationally recognized tourism destination.
But the attractions don't stop there, because the region has also been home to numerous civilizations and cultures, and these have left their marks on the history and art of Murcia. Today we offer you a voyage into the past, and we'll journey on foot so that you can enjoy the incredible legacies of the passing of time.
From prehistory through the XVIII Century, we'll immerse ourselves in places that demonstrate the accrued knowledge and the cultural and historical riches of the Region, and remind us of the uniqueness of the enclave in which we have chosen to live. Pick a day and rally your favorite walking companions to join you on one of these routes. You'll have a great time and learn more than you ever thought possible.
Cave art route
To begin this route, we must travel more than 32,000 years into the past. There are but a few Paleolithic-era cave drawings here in Murcia, but in the Abrigo de Jorge, in Cieza, there are two very well-preserved figures of a horse and a bull that are worth a visit.
The period most well-represented in the region is the Levantine. Ranging from approximately 10,000 BC to 4,500 BC, and coinciding with the first appearance of objects made of copper, its artistic renderings are narrative and naturalistic, employing characteristic red pigments to represent anthropomorphic figures and animals. Spending the day in the area of the Abrigo del Buen Aire in Jumilla or in the Abrigo de la Risca en Moratalla will allow you to see some great examples of this art while enjoying nature and the open areas around the caves.
Murcian castles and battlements route
Once you've seen the prehistoric treasures, you can jump forward in time without changing your location. Both Jumilla and Moratalla offer additional cultural treasures, these from the XV Century. Quite near your apartment at La Manga Club you'll find a great variety of castles built up over ancient Roman forts like the one in Jumilla (where, if you love wine, you also shouldn't miss the opportunity to taste test at some of the best wineries). And in Moratalla, you'll find the first walled plaza built in the Region of Murcia.
This route will also let you walk through ancient Moorish towns like Mula, home of the Vélez Castle, which is very well preserved. And afterwards, you can discover the Roman hot springs in the Alhama de Murcia castle. Other castle must-sees can be found in Lorca, including the Fortaleza del Sol, the Alfonsina Tower, and its castle (which has been declared an Asset of Cultural Interest), all of which, with a little help from your imagination, can transport you back into the Middle Ages.
There's more to be offered in the coastal town of Águilas. Its Chuecos Castle, Tébar Castle, and the famous San Juan Castle date from the XVIII Century, as well as quite a few other remains amongst which you can enjoy a leisurely walk.
Baroque church route
A series of favorable historical circumstances came together in the XVIII Century to bless Murcia with a great economic and cultural boom. Among other results of this golden period was the birth of new ideas in architecture and the use of public space, and these ideas in turn inspired projects like the stone bridge, the construction of the Plaza Nueva and Camachos Plaza, and new ways to control the path of the river.
There were also great strides made in church architecture, and for this route we suggest a walk through some of the best examples, in which you can see new and, sometimes, opposite architectural styles converging in simple parishes, convents, and even the majestic Cathedral. Begin at the latter, which opens onto the Cardenal Belluga Plaza and the Episcopal Palace, where you can visit the chapel. And once you've finished, you can take in the beauty of the nearby San Juan de Dios church.
There are numerous possibilities for your visit, including the San Andrés church, which used to be a convent; Agustinas Descalzas, which boasts an important lintel; San Nicolas, which holds works by the famous artists Salzillo, Alonso Cano, and Pedro de Mena; San Pedro, with its impressive liturgical furniture; Verónicas, which currently functions as an exhibition hall; and the many beautiful chapels like San Miguel, Santa Clara, Santo Domingo, Santa Ana, Merced, Santa Eulalia, and San Juan Bautista. In short, there's an almost endless number of places that are as lovely to look at as they are architecturally significant, and where a mystical presence arises from the intersection between human creation and spirituality.
Three routes, three voyages through time, and three different ways to experience the history that teems in the areas surrounding your apartment at La Manga Club. They're not to be missed!