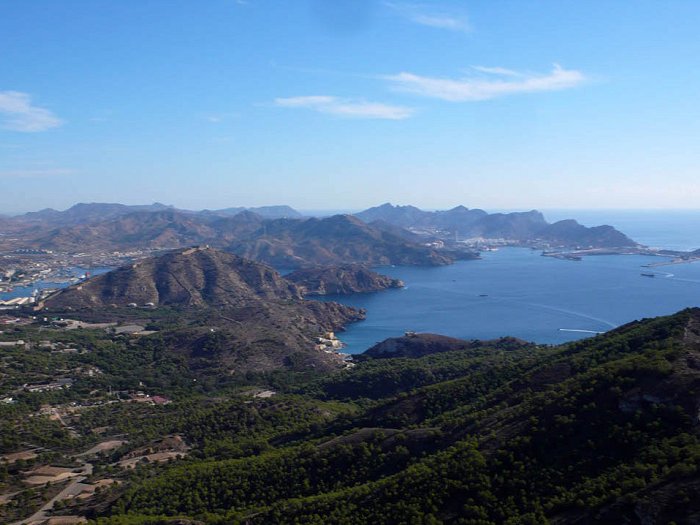 If you've been living in one of our La Manga Club apartments for some time, you know that hiking is not only one of the healthiest and most accessible sports, but also one of the best ways to discover the incredible biodiversity and hidden corners of the Region of Murcia. Today we offer you three Cartagena hiking routes that will also introduce you to places of historical and natural interest. If you're an outdoor enthusiast, choose a day and a good companion; we guarantee you'll learn and enjoy no matter which of these options you pick!
Sierra de la Muela
If you are a hiker and want to spend a day immersed in nature away from your apartment at La Manga Club, we recommend you grab a small backpack and walking shoes and get ready to enjoy a place where the beauty of the landscape, the calm, the fresh air, and the aromas of thyme, rosemary and lavender will leave you speechless. This first route that we propose runs through one of the most popular natural spaces in Cartagena, the Sierra de la Muela. Located 551 meters above sea level, Pico de la Muela offers its visitors a natural lookout point with incredible views of the adjacent Cartagena coastal locations like Cape Tiñoso, Portús beach, Aguilar cove, and Boletes. The Sierra de La Muela was traditionally used for livestock and agriculture and you can still see farmyards and houses along the route.
The 8k circular path that we propose begins at a group of houses in the town of Pie de la Muela. You can reach them by driving about 35 minutes by car from La Manga Club. Once you have started the route, crossing the northern and western slopes of this mountain range on several paths, some of which together form the PR-MU 116 Senda del Agua, you will reach the highest point of the Sierra de la Muela. You'll continue by descending a metal staircase that, while impressively steep, is easy to navigate and suitable for all fitness levels. This will lead you to onto the Muela forest path, which you will descend along the eastern slope until you again reach the town where you started this beautiful journey.
Castillo de la Atalaya (Atalaya Castle)
If you want to travel back to medieval times while enjoying a beautiful walk with wonderful views, we encourage you to try this Cartagena hiking route that leads to Mount Atalaya and its famous castle, declared a Site of Cultural Interest in August 1997.
This beautiful round-trip route of about 4.2 km begins in the Barrio de la Concepción in Cartagena. You access the trail near the façade of the church. It begins as a cement path and then leads you into a ravine. From there, heading west, you will find yourself in the Sierra de Pelayo forest with its abundant vegetation and then in the rocky area of Las Tres Marías. The ascent begins here and reaches to the hill of the castle, after which you will descend along a very rocky path of about 200 meters that borders the military zone until you reach the neighborhood of Villalba. From there, following the signs, you will arrive at the Atalaya Castle. Stop and recharge your batteries while looking at the spectacular views of Cartagena and its port. To descend, return along the cement road until you head back down to the neighborhood of La Concepción once more.
There are many ways to get to Atalaya Castle, both on foot and by bicycle, and this route is perfect at any time of the year when you find yourself at your residence at La Manga Club.
Roldán Lookout
Located on the coast of the Region of Murcia, west of Cartagena and 490 meters above sea level, Cabezo Roldán is a cliff range that forms part of the Sierra de la Muela, Cabo Tiñoso and Roldán Natural Area. It is considered a place of ecological, geomorphological and cultural interest because you can see many plant and animal species, as well as impressive views of the Cartagena coastline. It's a firm favorite of hiking, biking, climbing and trail running enthusiasts, as well as nature lovers.
There are several ways to reach the viewpoint, but the one we recommend is of moderate difficulty, suitable for undertaking with family and children. You will start by parking the car next to the Tentegorra Park, one of Cartagena's most important green spaces, and from there take a path that crosses through areas filled with pine, almond and carob trees. You will come to a small esplanade and turn left to cross a small boulevard. This is where the path begins its climb. Walking up the slope of the mountain, you will cross a private estate along a marked path and after traversing a small forest you will arrive at the Collado del Roldán, also known as El Mirador. The effort will be worth it. There's an impressive view of the bay and the different capes that dot the coast of Cartagena, Mazarrón and Águilas. If you want to continue the route, you can reach the military battery a little further up by doing a steeper climb. At the top, you can rest near the cliff and take photos of the impressive sights. The descent begins from there, along another path that later become wide and much more secure.
As you can see, if you have a property at La Manga Club, there's no excuse not to try these Cartagena hiking routes and discover this spectacular environment with great biological, geological and cultural treasures. Begin planning your trips now and get ready to enjoy unbeatable views and a day surrounded by nature. You won't regret it!