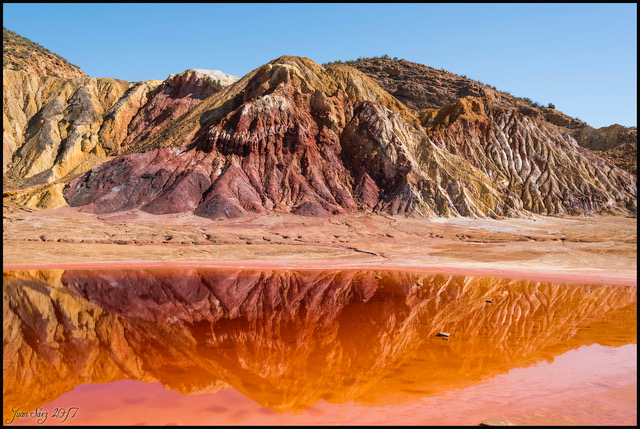 If you're searching for adventure tourism, the mines of Murcia are a fascinating option, thanks to their unique beauty and settings. These sites, located quite close to your home at La Manga Club, are places where mining activity has left its clear mark and – though it may sound strange to say – shaped, over centuries, valuable cultural, archaeological and industrial history. Today we offer you a tour through three of the most interesting sites. It's a trip through the past replete with beautiful views and charm.
The Cabezo Rajao mining complex
Our tour begins at the Cabezo Rajao mining complex, just 17 km away from your apartment at La Manga Club, on the border of the municipality of La Unión. Cataloged as an Asset of Cultural Interest (BIC), in the category of Historical Site, it was one of the most important sites of Roman mining for about five centuries, until III AD, when the decline began in the Sierra Minera. Its name, "Rajao" (in English, "cracked"), derives from the mining of an open-pit surface vein of argentiferous galena that, after being emptied by the numerous slaves who worked on the mountain, left what looks like a large crack on top.
In the 16th Century, mine activity resumed. Then, after a period of time in which it stopped and was again out of use, it started up a third time at the end of the 19th Century. This period left clear traces of activity all over the landscape, including singular constructions like towers, wells, chimneys, ore washing facilities, smelting furnaces, powder kegs and machinery that remain there today, seemingly frozen in time.
If you are curious about the mines of Murcia, the Cabezo Rajao mining complex is a mandatory stop where, in addition to traversing a landscape marked and transformed by centuries of intense human activity, you can contemplate beautiful views of La Unión, Alumbres and Cartagena or even go hiking, running or cycling.
The Calera Mines
Our journey continues, and about 3 kilometers from the shore of the Cartagena coast, at the foot of the Peñas Blancas mountain, you'll find the La Calera mines. Here, in a unique landscape, half-ruined cisterns and farmhouses, towers, rails and rubble preserve the essence, smell and peculiar aesthetics of the mines and offer us a journey into the past full of forgotten human stories.
In its most prosperous time, when the industry was at its height, it was a large mining complex made up of several concessions, among which were the well known "Acheron", "Estigia", "Fragua" and others. Numerous minerals were extracted here, particularly iron, which was later exported on ships from Isla Plana to other European countries such as Switzerland and England.
Mining operations closed in the 1960s, transforming Calera into a historical site that today is a tourism attraction for all those who like tours off the beaten path, as well as mountains and the many options for exploration and discovery offered by the municipality of Cartagena.
If you're a lover of history and hiking, don't miss a visit to these abandoned mines. But explore the mines themselves with great caution and always in the company of professional guides who know the site and can help you with all the equipment (helmets, flashlights, etc.) you need for a safe experience.
The Mazarrón Mines
The last stop on our mining tour is in the municipality of Mazarrón. This tourism center and beach destination's abandoned mining area is a jewel worth discovering. It's a very peculiar place that constitutes one of the most important geological and mining sites in Spain, and its demolished buildings, fascinating shapes, and colors will transport you to another world with its apocalyptic movie atmosphere and many histories of hard work, sacrifice and fellowship.
As you enter the mining area, you will begin to see mountains decked in the ochre, red, gray and purple tones that are the evidence of the oxidation of mining waste. During your tour, you may also come upon some small red or yellow lagoons in which this peculiar landscape is reflected, and abandoned structures like access towers for defunct wells, old machinery, or the remains of foundry chimneys.
The mining complex is large, so you can spend a few hours discovering all its corners. Because it has been truly abandoned, there are no security measures in place. Walk carefully, avoid open wells and small cliffs, and do not enter the ruined buildings in danger of collapse, especially if there is wind or rain.
If you are a lover of photography and history, this tour will introduce you to some of the most important mines of Murcia. Come and discover the region's industrial past the next time you come home to La Manga Club!