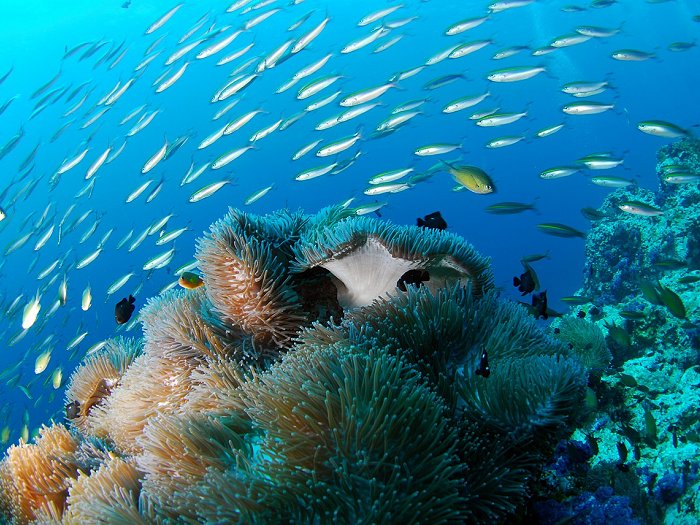 We've spoken several times about the impressive marine depths surrounding your house at La Manga Club. Among them is Cabo de Palos, which, together with the Hormigas Islands, were declared a Marine Reserve in 1995 in order to preserve their incredible diversity of flora and fauna and the quality of their underwater landscapes.
If you're an aficionado of diving, you'll already know about some of the hidden treasures on the south coast of our region that you can explore mere kilometers from your apartment at La Manga Club. These shallow, beautiful waters are open to the sea and almost all accessible from land, and contain schools of grouper, sea bass, morays, mullet, and octopi, among other species, that bustle among and find refuge in a lush jungle of sea grass and numerous sunken shipwrecks. For many years, there was underwater fishing in this area, but in the last decades this activity has been cut back in some areas to guarantee the protection of the environment, and diving has come to the fore as an economic activity whose objective is only to observe the fauna and aquatic vegetation. The Cabo de Palos – Hormigas Islands marine reserve is the most important preservation area in the zone and over the past few years it has become a point of reference for beginners and experts alike.
But there are even more treasures hidden under the sea waiting to be discovered and admired in all their beauty. The Cabo de Palos marine reserve is growing. In January they announced that the reserve would be extended by half a mile to the coves near the lighthouse in the area, marking El Cañonero as the new border of this protected area. The objective is to protect the fish and marine animals that live and flourish in the area and that are captured in great numbers by underwater and sport fishermen, especially species like grouper, pollock, redfish, and octopi.
Cabo de Palos isn't the only marine reserve in the area surrounding the residences at La Manga Club. In the summer of 2018, Cabo Tiñoso officially became the second marine reserve in the Murcian Region. It offers a spectacular system of underwater canyons, a rich and varies collection of flora and fauna, and limestone and dolomite cliffs that make for an extraordinary landscape. In addition, the good quality of its water and other factors like the scarce presence of boats throughout much of the year, facilitate the growth of its population of bottlenose dolphins, true acrobats of the sea that are known for their aerial tricks and their good nature.
And that's not all. Just a few months ago, it was announced that Cabo de Cope, a place replete with biodiversity and extraordinarily beautiful and precious landscapes, will soon become the third marine reserve in the Murcia Region. The coastal region of the Copa Marina is quite the factory of fish, boasting an incredible diversity of species. Here, in the rocky depths, well preserved cliffs, sandy banks, and extensive seagrass plains provide unique refuge and breeding zones for some of the rarest and most threatened marine populations. It provides ideal conditions for feeding and rest during a period of development. Its these unique conditions that have earned the area its new distinction and preservation status.
Now that you know a bit more about the marine reserves that surround our resort, all you need to do is plan an excursion from your house at La Manga Club to see them up close and be delighted by the natural joys that are found in their hidden depths. In addition to enjoying top sport facilities and first-class services in our luxury resort, you have an entire world to explore at your feet. Time to have an experience you'll never forget!