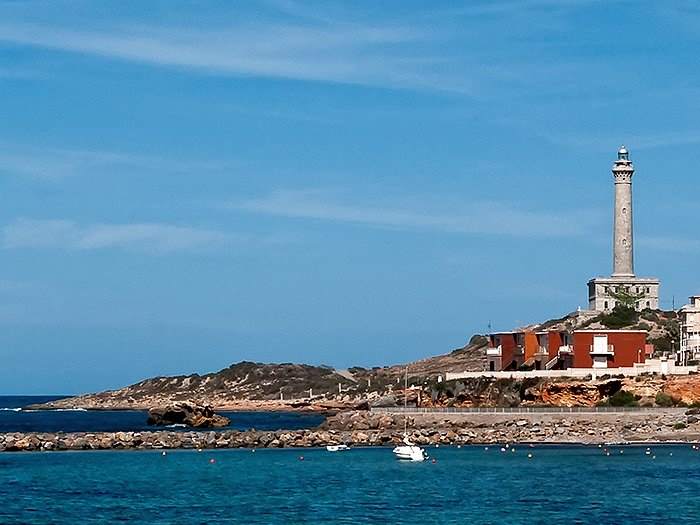 One of the most attractive things about the Region of Murcia that makes having a property at La Manga Club so delightful is the collection of small nearby fishing villages teeming with history, tradition and Mediterranean cuisine. Some of them you surely already know if you've been exploring the area close to our marvellous sport and golf resort, but there are many more that bear discovery. Today we journey over to Cabo de Palos, a charming and tiny maritime town in the province of Cartagena just 13km from your property at La Manga Club, the home of a lighthouse that offers spectacular views and one of the most storied histories in Spain. There, at the end of a strip of land that juts out into the sea, you'll find a haven of tranquillity and silence where the only sound is that of the sea, despite its close proximity to the bustle of the Manga del Mar Menor.
The lighthouse, located at the highest point of the fishing village of the same name and declared an Object of Cultural Interest in 2002, has existed for more than 150 years. Bathed in the Mediterranean waters, it's witnessed its fair share of battles: it was constructed in the XIX century during the reign of Felipe XVI as a bulwark against Berber pirates. In a second phase of its history, it was also used as a landmark for the fishing boats operating in the area and the mercantile ships travelling from all over the world.
Today, the Cabo de Palos lighthouse is an impressive 81-metre tower situated 51 metres above sea level atop a majestic rock promontory. Its two floors are topped by a capital and a projecting cornice supported by 16 brackets. Above them is a marvellous keep, some 3.5 metres high that is, without a doubt, the standout feature of the building. Its beauty, thanks to the enclave in which it is located and the views it offers, is indisputable. In fact, in 2012 it was nominated for the Repsol Guide's "Best Place 2013".
Guardian of not only a coastline of coves with crystal-clear waters but also of the marine reserve that lies at its feet, the Cabo de Palos lighthouse offers the best available panoramic view of the Hormigas Islands, one of the most biologically diverse of the Mediterranean reserves that attracts lovers of submarine life who seek out its sponges, sea urchins, cabrillas, mullets, prawns, and lobsters. If you're willing to try out the sport, we recommend that you stop into the town of Cabo de Palos and visit one of the diving centres or agencies that can help you learn about this marvellous archipelago and dive into its treasure-filled waters.
After you've enjoyed the beautiful views and even a voyage into the depths, you'll want to discover more about this fishing village and, above all, to try some of its most popular dishes. Here's how to finish off your excursion with a good taste in your mouth.
The town of Cabo de Palos: tradition and gastronomy
Once you descend from the lighthouse, but before heading back to the properties at La Manga Club, set aside a bit of time to walk along the port and enjoy its terraces and typical restaurants where you can sample a cuisine based on delicacies recently retrieved from the sea. In one of the traditional little houses where pirate tales are common entertainment, you must try the famous Mar Menor Caldero, a rice dish made with fresh rockfish and accompanied by the typical aioli sauce so popular in Mediterranean cuisine.
An excursion from La Manga Club to Cabo de Palos has, as you see, many charms that are difficult to resist. Whether at sea or on land, enjoying its rich marine depths, its compelling views or its typical Mediterranean fare, there will always be something that will make you come back for more.