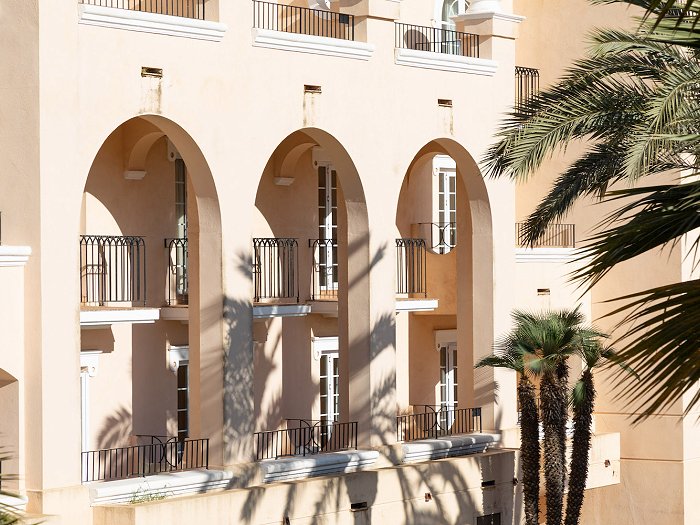 More ready than ever, we're beginning a 2023 full of challenges. The transformations at our resort have begun with the La Manga Club hotel and will expand through our residential communities and commercial projects, bringing new prestige to this already consolidated destination. More than 50 years of starring on the lists of the best golf courses in Europe has made this a vibrant and warm community that is always looking for new opportunities for growth.
As of early December 2022, the Príncipe Felipe Hotel has closed its doors and immersed itself in a comprehensive renovation that will take its facilities to the next level. The project fills us with pride and leaves us especially excited over the prospect of new Wellness and leisure offers in addition to the modernization of the resort's hotel concept. The new space will be fully aligned with the expectations of modern clients who want to continue their wellness and health routines even while on holiday.
Architecturally, the El Boulevard complex continues to be an important axis of growth for La Manga Club thanks to its strategic location. With these 16 commercial premises in Spain, some of them already sold, this community will add dining, leisure and shopping options to the resort. Its architects, Carlos Javier Martínez Ruiz, Ignacio García-Martos and Rafael Amat Tudurí, set out to connect this new axis with the existing commercial areas, La Plaza and Las Sabinas. Its proximity to the recently refurbished The Racquets Club, fast becoming the social center of La Manga Club, will give even greater vitality to this corridor thanks to the constant flow of athletes, guests and residents.
Finally, economic data confirms that Murcia is becoming an important focus for real estate investors looking for Spanish villas and luxury apartments as second or even first homes. According to the outlook of Tinsa, a company specializing in asset valuation, the price of housing in the Region of Murcia experienced a significant increase in 2022, reaching 1,084 Euros/m2, and is expected to continue to grow in 2023. And at La Manga Club Properties, the price per square meter is triple or quadruple the Murcian average, reflecting the exclusivity of these products in an exceptional location with all the services and privileges of a golf resort.
The sales forecasts for the year ahead are, therefore, very optimistic, and this great moment will be made even sweeter by the results of the renovations at the La Manga Club hotel. The increased tourist flow will reinforce the desire of many to acquire homes for sale at La Manga Club throughout 2023.