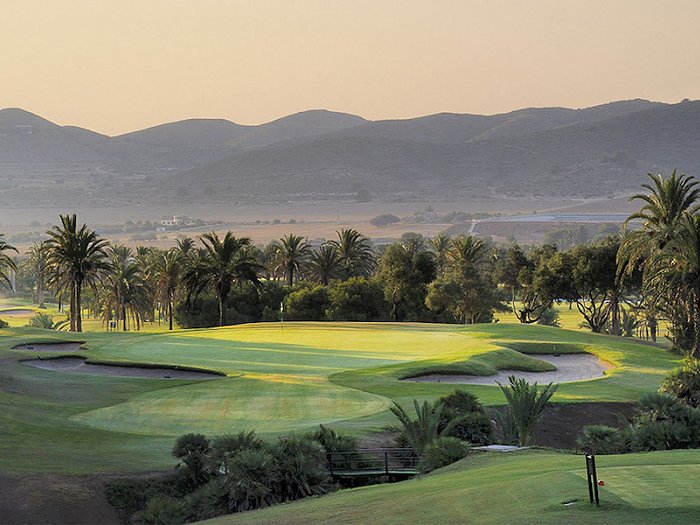 Did you know that Arnold Palmer eagled on one of the golf courses close to your La Manga Club property? Or that Sean Connery played here? Our three golf courses are internationally recognized and quite a few celebrities have graced our greens. And that's not all. Throughout the 47 years of our history we've accrued quite a few stories that we love to share.
The first La Manga Club golf course was constructed in 1972 by California golfer Gregory Peters. Impressed by the vast terrain between La Manga and Cartagena (Murcia), Peters didn't hesitate to turn the area, known as Atamaría, into a great golf course.
More than 3000 palm trees, a variety of water features and sand traps, and well-defined lanes make up the 3 courses at our resort that you can find close to your La Manga Club property and that are categorized among the Top 40 in the world. It pays to know their particular features, especially when it comes to the level of play required of golfers.
The North Course, designed by Robert Dean Putman, is ideal for the beginning golfer because the greens are small and the lanes narrow. You can practice a precise style of play without having to drive especially hard.
The South Course, also designed by Putman but redesigned by Arnold Palmer, was created with demanding athletes in mind. It boasts wide lanes, 15 water obstacles, 6500 total meters in length, and a variety of difficulties among the holes.
The West Course, designed by Dave Thomas, is filled with sand traps, cliffs, and elevations that require high levels of technique and precision. Its difficulty has made it one of the Top 100 courses in Europe.
Big personalities
When the first course was built in 1972, it was inaugurated with the International Maritime Cup that attracted celebrities like Sean Connery, Manuel Santana, and Tony Jackin, the creator of Dennis the Menace.
Actor Christopher Lee (who played Saruman in the Lord of the Rings Trilogy) filmed the famous movie Dracula in La Manga Club's Los Miradores, and, like any good lover of sport, also took a run at our golf courses and walked the grounds around your La Manga Club residence.
Other big actors have graced our grounds as well, including Matt Damon, Salma Hayek, and John Malkovich, as well as singers such as Gloria Estefan, Alejandro Sanz, Robbie Williams, Jamiroquai, and many more.
And, as might be expected, great personalities including the King and Queen of Spain and the Royal Family of Malaysia have also stayed here, played on our courses, and spent time in our wonderful resort.
Guinness World Records
But perhaps the most interesting trivia for golf lovers are the great stories like the eagle made by Arnold Palmer in 1975 after driving a ball into the last water feature of the South Course and then hitting it onto the green from waist-deep water.
The great Spanish golfer Severiano Ballesteros has his own Seve Corner at La Manga Club. Some of his golf shoes and his La Manga Club golf bag are part of the memorabilia you can see, the latter being the play bag he proudly carried all over the world.
Severiano is also celebrated for a stunt he once pulled: hitting three balls over several buildings to land them exactly where he wanted them, in a pool around which they were hosting the inauguration party for the Bellaluz community.
The Guinness World Record made in 1985 by golfer Otto Bucher is also a legend around the resort. He made a hole in one at 110 meters of distance. The record was beaten several years later by two Brits who achieved 310 meters of flying distance on the South Course.
The three La Manga Club golf courses receive more than 120,000 players every year, and they all enjoy great services in addition to the great golf they offer. El 37 is our clubhouse restaurant and bar, offering ample spaces for relaxation and to restore your strength; there is a travelling buggy that offers drinks and snacks all over the courses; our golf course academy is directed by Thomas Johansson; and there is a Pitch & Putt designed by Severiano Ballesteros.
For all these reasons and more, you can congratulate yourself on purchasing a home at La Manga Club in one of the best golf resorts in Europe.