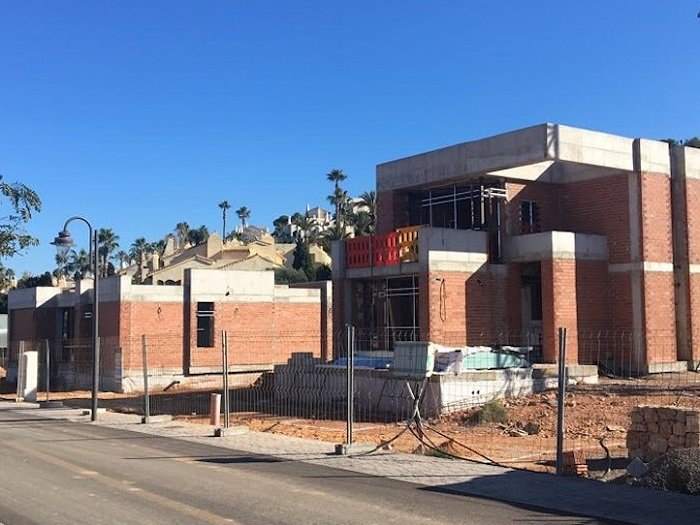 2017 has been a wonderful leap forward for the Acacias villas at La Manga Club, with our three model homes rising quickly to meet the start of 2018. Here at the La Manga Club properties office we are looking forward with great anticipation to touring these homes in the coming year with our prospective buyers, and showing off the new face of our residences.
As La Manga Club prepared to celebrate its 45th anniversary this year, the Las Acacias villas were conceived to usher in a new era at the resort. Looking ever to the future, we continue to position ourselves among the best of the best resorts in Europe in facilities, security, and, of course, our properties for sale.
Las Acacias' striking exteriors are matched by the attention to detail in their interior design: high-end fixtures and finishings, combined with an open-plan design that drinks in the Mediterranean sunlight. Their private pools, parking and gardens speak to the demand for new luxury homes within our unique destination. And their location in the only central area still available for construction makes them a truly special opportunity.
As anyone who has explored La Manga Club knows, our resort is perhaps most famous for its unparalleled golf offer. With three 18-hole courses on the grounds, golf lovers will never tire of walking out their front door and being on the greens in 5 minutes. We are never content to rest on our laurels, and we've also made some wonderful improvements this year to our golf experience. The 37 Spike and Sports Bar has seen the addition of an expanded terrace with views over the whole resort. Our properties office has opened a new location in the Golf Clubhouse. And now we have a special deal for prospective buyers of Las Acacias who are smitten with this most elegant of sports.
With a tip of our hat to La Manga Club's important anniversary, we are offering a limited-time promotion for those who buy an Acacias villa. New property owners will also enjoy:
A waiver of the golf Sports Rights inscription fee (worth up to €6,000)
A guaranteed 50% off public green fee rates until the end of 2025
A La Manga Club Premier Membership Card, offering up to 20% discounts on tennis, the Wellness Centre, resort-owned restaurants and shops, car hire, and more.
Contact the Properties Office to learn more about becoming part of the future of La Manga Club.