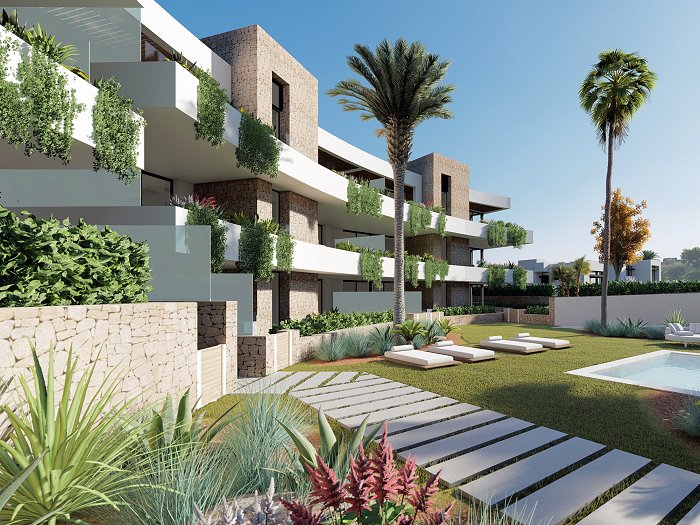 La Manga Club Properties' commitment to sustainability includes social, economic, and environmental pillars, but today we explore the elements of sustainable construction in our Las Orquídeas community.
These 42 freehold apartments are located in an ideal central location in the resort, just a few minutes' walk from all the shops and restaurants. The 2- and 3-bedroom units share access to community gardens, a pool, and 24-hour security, as well as private parking. With spacious interiors and lovely terraces and gardens, they have been designed by the Innovarq architectural studio to be modern, elegant and, above all, use sustainable construction.
At the global level, the construction industry is responsible for some 40% of all CO2 emissions. These derive from all the links in the production chain, from fabrication to transport of materials to demolition of existing buildings. With an eye to the future, it is our responsibility to produce sustainable construction projects with clear objectives:
Preserve and reuse existing environmental resources
Use materials that are non-contaminants, preferably recycled, and that are long-lasting
Use updated methods for natural ventilation
Use resources of natural origin, and be 100% reliant on renewable energy
Employ natural lighting in interior spaces
Maintenance costs for the building should be low
Plant trees, gardens, and vegetation on the building grounds
In the case of Las Orquídeas, comfortable interiors combine with very low energy consumption thanks to exacting building design and a controlled ventilation system. The apartments will be extremely well insulated, making them more hermetic and thereby reducing energy consumption.
The building will also be constructed with aerothermic technology, which uses the energy in the air in the form of heat to warm or cool the apartments and heat water. This technology employs primarily renewable energy, and produces very low levels of CO2 emissions. It only requires a small amount of electricity, enabling users to save up to 60% of their energy expenditure. Aerothermia is a versatile and efficient system that can be adapted to the needs of any space, and is three times more productive than other systems.
In addition, Las Orquídeas is committed to sustainable construction in terms of its building materials. It has joined the Porcelanosa Ecologic Partners project, which employs environmentally friendly measures to lessen climatic impact and contribute to sustainable architecture.
The standard flooring and finishes in Las Orquídeas are produced using electricity that is 100% sourced from renewable sources with a certificate of origin. The sustainable production also employs constant reuse of water and "zero dumping" practices. All of the waste product that comes from the ceramic tiles is reincorporated into the production process. The optional Forest Natural flooring consists 95% of recycled material that is highly resistant, reducing CO2 emissions in comparison with conventional processes.
The apartments' toilets have a double flushing mechanism that enables you to choose whether to flush with less or more water, as well as Efficient Flush technology, which includes two water spouts to reduce buildups and the necessity for additional cleanings and water use. The cistern is also produced with recycled materials and the taps open with cold water, reducing the flow.
The sinks are produced in Krion-Shell, a material made 75% from minerals and 25% from ECO Resina, made from waste plastic, thus recycling debris and contributing to the circular economy.
These are but a few of the ways in which this planned community is making a contribution to sustainable construction at La Manga Club Properties. As you can see from the floor plans, the apartments' large windows also allow for a maximum of natural light to filter into the interiors, and the lovely grounds make landscaping and greenery a priority in this modern residential project.