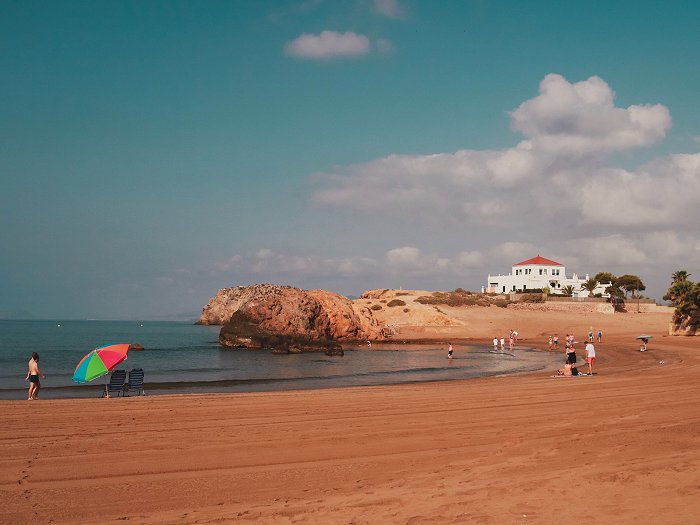 Welcoming, fascinating, and full of unique history and traditions, Spanish towns and their culture are the secret to understanding life on the Iberian Peninsula. If you're ready to add to the draw of Spain's beaches, museums and great weather, let us take you on a tour of the area surrounding the resort. These Spanish towns are jewels of architecture and history that epitomize the essence of southern Europe. If you have a property at La Manga Club, save this article to plan your next days out, or if you're a guest of the Grand Hyatt La Manga Club Golf & Spa or the Ona Las Lomas Village apartments, pick any one of these options for a wonderful day exploring Murcia.
Águilas: the sea's golden secrets
One of the most outstanding villages in the area is Águilas. Located just an hour's drive from La Manga Club, this is a picturesque coastal town that captivates visitors with its golden sandy beaches and Mediterranean charm. Its narrow cobblestone streets are dotted with whitewashed houses and flower-filled balconies, creating a very picturesque and colorful atmosphere. The port of Águilas, with its lively seaside atmosphere and wide variety of restaurants and bars, offers the perfect end of the day with a dip into local gastronomy.
Caravaca de la Cruz: faith and mystery down hidden streets
Another must is Caravaca de la Cruz, a Murcian city located west of the resort that is full of history and spirituality. Its main attraction is the Sanctuary of Vera Cruz, one of the five holy places of Christianity, which attracts thousands of pilgrims every year. Its well-preserved medieval old town is a real delight for history lovers and for curious wanderers who want to get lost in its cobblestone streets and discover churches, beautiful squares and historic monuments.
Lorca: military history in every stone
Lorca is a city with a rich cultural and architectural heritage. Located less than an hour northwest of La Manga Club, this Spanish town has an imposing medieval castle, the Fortress of the Sun, which dominates the horizon and offers stunning views of the entire town from its heights. Lorca is also known for its Holy Week processions, considered a Spanish festival of International Tourism Interest, which attract visitors from all over the world.
Mazarrón: perfect beaches surrounded by nature
If you take your car from La Manga Club and head south on the AP7, you will arrive at Mazarrón, a coastal destination that offers beautiful beaches with pristine waters as well as historical sites you'll enjoy visiting. This is where you'll find Bolnuevo Beach, famous for the impressive silhouettes of its rock formations eroded by wind and water. And the old town of Mazarrón is home to churches and historic buildings that are part of the cultural fabric of the region and the history of Murcia.
La Unión: echoes of the mining past
The last can't-miss town on your visit to the region is La Unión. A half-hour drive from your home at La Manga Club, this small mining town is located in the region of Campo de Cartagena and known for its rich industrial history and cultural legacy. During the 19th and early 20th Centuries, La Unión was one of the main mining centers in Spain, and still preserves many vestiges of its industrial past. You can visit the Agrupa Vicenta Mine, a mining museum that will allow you to delve into the history of mining in the region and, if your trip happens to fall on the right dates, attend the Festival Internacional del Cante de las Minas de Murcia, an annual event that celebrates flamenco and attracts artists and fans from all over the world.
If you take the time to visit these five towns near La Manga Club, you'll get a complete and varied picture of the region of Murcia. From coastal beauty to history, culture and mining heritage, these destinations will not only leave you with unforgettable memories, but the authentic essence of Spanish towns and the best of Murcia tourism.