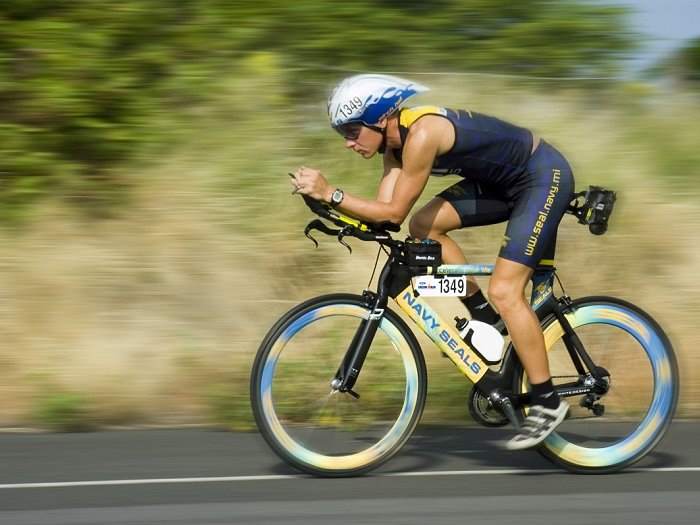 If you have a property at La Manga Club, doubtless you already know why our leisure and golf resort is considered to be one of the best in Europe. Among other reasons, its location on the Spanish Mediterranean coast means that athletes from all over the world can enjoy an exceptional year-round climate while engaging in their favourite activities. A mild winter and a summer softened by the sea breeze make La Manga Club an earthly paradise, which is why professional and amateur teams arrive every day from all over the continent to benefit from the incredible advantages of our first-class sport facilities. And among them, those who appreciate the weather and the spectacular surroundings of La Manga Club the most are those who spend the largest amount of time outdoors, such as triathletes. Triathlon is a robust and demanding sport that combines three basic disciplines: swimming, cycling and running. All three require tremendous effort, dedication and, above all, time, as the long distances of each leg of a triathlon can't be taken on without many months of training.
For a triathlete, having an environment close to home that's easily accessible and allows for travelling long distances by bike, swimming or running is essential, and at La Manga Club this is assured. The exceptional location of our resort, very close to the Natural Park of Calblanque, lets you swim in the open sea just minutes away from the complex and enjoy the countless routes in the vicinity, thanks to the enormous variety suitable for cycling and CrossFit training within Calblanque's almost 500 hectares. What´s more, our resort also has an indoor pool for more technical or shorter workouts.
One of the additional advantages of purchasing a property at La Manga Club is our Triathlon Academy, which offers these dedicated athletes access to the best coaches and physical trainers. They can provide plans specifically adapted to the level and the objectives of each individual triathlete, whether beginner or professional. We even have a Children's Triathlon Academy that supports little ones who want to embark upon their training in this fantastic activity.
Triathletes can also count on having unique sport facilities at their fingertips, such as our High Performance Centre, located in the Wellness Centre building, just a few meters from the La Manga Club properties. There, advice can be sought and athletes can undergo periodic medical assessments that contribute to improving performance and fitness. And the Fitness Centre allows for additional training under the supervision of our highly qualified technical staff.
Do you need more reasons that acquiring a property at La Manga Club is the best investment a triathlete can make? In case you do, La Manga Club's packed schedule of events and workshops may tip the scale. Carried out throughout the year, these triathlon-related activities are the delight of fans and practitioners who want to enjoy the wonderful scenery that envelops our renowned resort. And lovers of the most extreme variant, the CrossFit Triathlon, aren't left out either: La Manga Club has even hosted the XTerra national championship, considered to be one of the toughest CrossFit triathlon events, comprising a 1500m swim, a 28km mountain bike and 10km run.
So whether you are a dedicated or even an amateur triathlete, training in our resort gives you the opportunity to enjoy a mild year-round climate, first-class sport facilities, the Mar Menor at your feet, and a natural environment offering routes suited to all levels and abilities (from 10 to 110km distances with inclines of 200 to 1300m). What more could you ask for?